The first Greek exit polls are out and here they are: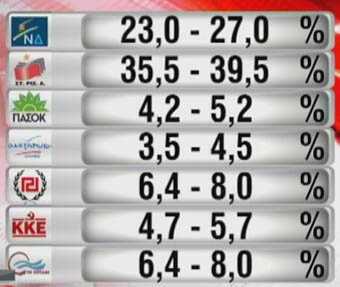 According to the initial exit polls, in first place, with some 35.5%-39.5% of the vote is Syriza, a huge lead over the second placing New Democracy which has 23-27% of the vote - far more than polls had indicated previously - and a spot which essentially  assures Tsipras' party an absolute majority in parliament and the ability to take as hardline an approach as he wishes.
The other parties:
Golden Dawn nationalists: 6.4-8.0%
The new party, To Potami, also with : 6.4-8.0%
Venizelos' socialist Pasok: 4.2%-5.2%
KKE: 4.7%-5.7%
Independent Greeks: 3.5%-4.5%
Knima: 2.2%-3.2%: probably not enough to pass the 3.0% threshold
How the parliament breakdown would look like with these numbers: SYRIZA has a 12.5 percentage point lead over New Democracy and is expected to get between 146 and 158 seats in Parliament, according to the exit polls.
SYRIZA 152 (146-158)
ND 70 ( 65- 75)
Golden Dawn 19.5 ( 17- 22)
POTAMI 19.5 ( 17- 22)
KKE 14.5 ( 13- 16)
PASOK 13.5 ( 12- 15)
ANEL 11.5 ( 10- 13)
KINIMA ( 0- 8)
A second take on what Greek parliament would look like also gives Syriza an almost certain majority:
Kapa Research projection of MPs: SYRIZA 148-154; ND 70-78; GD 16-20; Potami 16-19

https://twitter.com/hashtag/greece?src=hash

https://twitter.com/hashtag/ekloges2015?src=hash

— Kathimerini English (@ekathimerini)

https://twitter.com/ekathimerini/status/559400455458287616
A quick observation:
Greek exit polls: Extraordonarily, neo-nazi Golden Dawn could end up with more seats than Pasok (who won 44% of votes in 2009 election)

— Mats Persson (@matsJpersson)

https://twitter.com/matsJpersson/status/559399004300378112
In short: if nothing changes drastically from here, a blowout victory for Syriza is essentially assured, one which gives it an absolute majority.
For those who wish to follow the data in real time from the ground, here are several live webcasts: