Investors looking at Baxter International (BAX - Get Report) should give this big pharma player a pass.
Given the company's strong earnings report on Tuesday, this is definitely a contrarian view, but the surest profits over the long haul are made by betting against the crowd.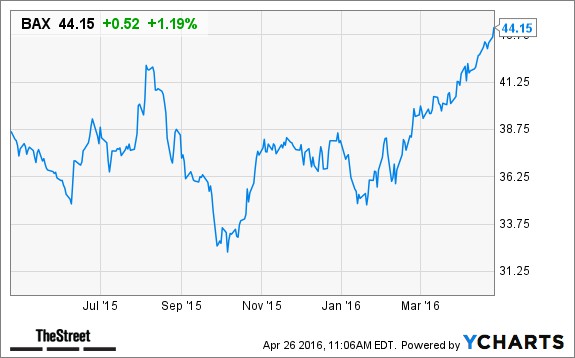 Brand New – TheStreet's Biotech Bible! Before you invest one single dime in any biotech stock you have got to KNOW WHAT YOU ARE BUYING! Get THE most comprehensive text covering the 171 biotech companies that have gone public since 2013! There's nothing else like it for digging into this highly speculative group of stocks. Get a FREE copy today!
For starters, Baxter faces new challenges following the spin-off of bio-pharmaceutical firm Baxalta.
Must Read: The Road Ahead: All Eyes on Energy and Earnings
In addition, Baxter cut its dividend last year to $1.27 cents from $2.05 cents in 2014.
Trading at nearly 25 times forward earnings and a price-to-earnings ratio of 2.5, compared with the drug...
More