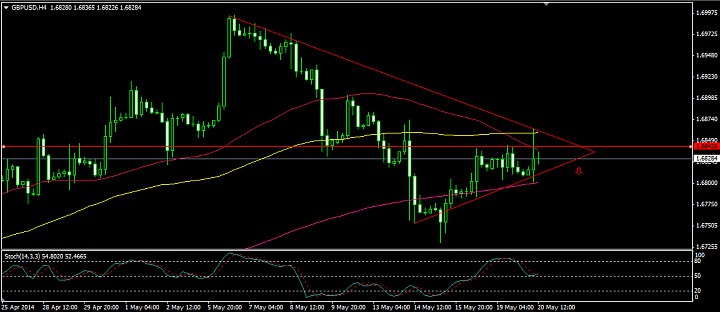 (GBPUSD : 4 Hour Chart)
GBPUSD seems like consolidating within two contracting support and resistance trend lines on the 4 hour chart. Although there is an ascending triangle trend also with resistance at 1.6842 which gives a bullish signal, but the par might reverse this bullish trend to downtrend as 50 SMA have crossed 100 day SMA to move down. Also the 50 day SMA seems like acting as resistance for the pair now which was previously acting as support for the pair.So the pair might break the support trend line of this triangle and decline. 
The upbeat CPI Data released by Office for National Statistics in U.K. was also not able to provide much surge in the pair. 
CPI Data : Forecast - 1.7% , Actual - 1.8%
Seems like investors are waiting for some important news. Tomorrow Fed is going to release its meeting minutes at 2 PM EDT which is definitely going to provide some momentum to the pair depending on the dovish or hawkish tone of the bank.