Yesterday we saw the EUR/USD pop up to 1.1040 after the FOMC statement. Let's take a look at the charts and follow up on that initial reaction.

EUR/USD 1H Chart 3/19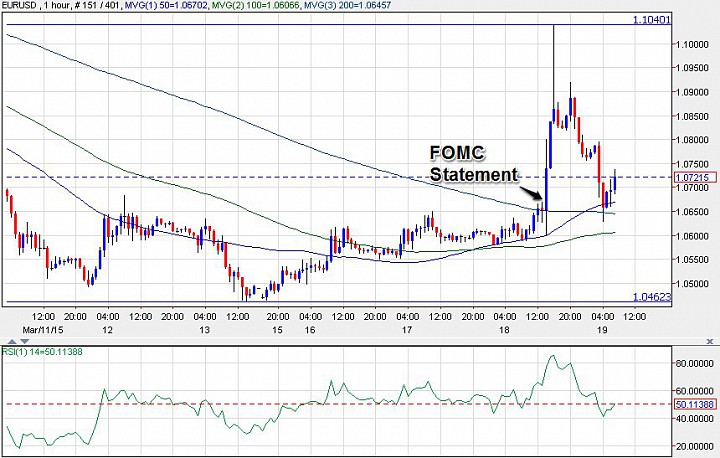 (click to enlarge)

The 1H chart shows the bullish reaction being rejected 1.1040. After that the market held below 1.0900 for the most part and retreated. As we got into the 3/19 Thursday session EUR/USD has retreated back to about 1.0650, retracing almost all of the initial reaction, and testing a previous resistance area.
The 1.06-1.0650 area will be important for the 3/19 session. A market that is still in consolidation or bullish correction should find support here. The 1H RSI should hold above 40 for the most part in this scenario as well. If this is the case at the close of the 3/19 session, there would still be upside risk at least back towards the 1.10 handle.
If price closes below 1.06 however, we will have to limit the outlook for the next bullish attempt, because it would be very likely that EUR/USD would be ready for bearish continuation towards at least the 1.0462 low, with risk of extending to 1.04 by next week