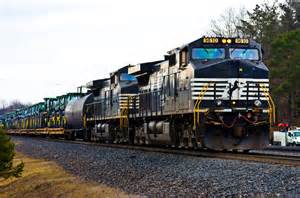 One of Warren Buffet's favorite industries may be in trouble. On March 23, a small railroad issued a warning about its quarterly earnings, and the cascading effect is taking down all other railroads in tandem. Kansas City Southern (KSU) warned investors that this quarter's profits would come in lower than expected because of weaker car load volumes. The company predicted flat to slightly higher first-quarter earnings, on flat revenue. For the full year, Kansas City now expects low single-digit revenue growth, down from the mid single-digit growth previously expected.
Kansas City is suffering from lower commodity volumes, due directly to the weak energy markets in the past several months. This shouldn't be a surprise, as everyone has known for some time that oil and gas is extremely weak. And yet, Kansas City's warning has had a dramatic effect on other larger railroads. On the same day, CSX (CSX) and Norfolk Southern (NSC) both fell 3%.
This could be a sign that investors are finally catching up to the reality facing railroads, which is that they are not immune to a deteriorating energy market. Railroad stocks have outperformed over the past year, so it's reasonable to expect a modest sell-off. After that, these stocks will be good buying opportunities once again.