Kite Pharma, Inc. KITE is scheduled to report first-quarter 2016 results on May 9, after the market closes. The company, which started trading from Jun 2014, posted a negative earnings surprise in the last quarter. Let's see how things are shaping up for this announcement.

Factors at Play

Kite Pharma, a development-stage biopharmaceutical company, is looking to transform the paradigm of treating cancer which involves using the body's immune system to recognize and destroy cancer cells. The company uses its engineered autologous cell therapy (eACT) to genetically modify T cells to express either chimeric antigen receptors (CARs) or T cell receptors (TCRs). These modified T-cells are designed to recognize and destroy cancer cells.

Kite Pharma's revenues comprise the amortization of deferred collaboration revenues related to the $60 million upfront payment received under its collaboration agreement with Amgen, Inc. AMGN in the first quarter of 2015.

With no approved products in its portfolio, investor focus will be primarily on the company's cash burn and pipeline updates.

At the time of releasing fourth quarter results, Kite had guided towards 2016 net cash burn of $235 - $250 million and net loss of $295 - $310 million.

KTE-C19, Kite's lead pipeline candidate, is currently in the pivotal phase of a phase I-II study (ZUMA-1) in patients with refractory diffuse large B cell lymphoma (DLBCL) including primary mediastinal B cell lymphoma (PMBCL) and transformed follicular lymphoma (TFL). All these are types of aggressive non-Hodgkin's lymphoma (NHL). If the study generates positive data (top-line data from the phase I portion presented at ASH in December; interim results expected in the second half of 2016), Kite intends to seek accelerated FDA approval for the treatment of patients with refractory DLBCL, PMBCL and TFL by year end. If all goes well, KTE-C19 could be launched as early as 2017. Kite intends to file for EU approval in 2017.

Kite is also evaluating KTE-C19 in a phase II study (ZUMA-2) in patients with relapsed/refractory mantle cell lymphoma (MCL) and in two additional pivotal studies (phase I/II) for acute lymphoblastic leukemia (ALL) - ZUMA-3 for adult ALL and ZUMA-4 for pediatric ALL, with results from all these studies due in 2017.

Kite plans to move KTE-C19 into a second series of studies for additional indications and earlier lines of therapy in DLBCL patients.

Apart from updates on KTE-C19, investor focus will remain on the company's progress with its collaboration agreements with several companies including Amgen.

Meanwhile, the bottom-line will also reflect the impact of the issuance of shares in Dec 2015.

Surprise History

Kite's performance over the last four quarters is mostly disappointing with the company surpassing expectations in just one quarter and missing in the remaining three. Overall, the company posted an average earnings surprise of -34.52% over the past four quarters.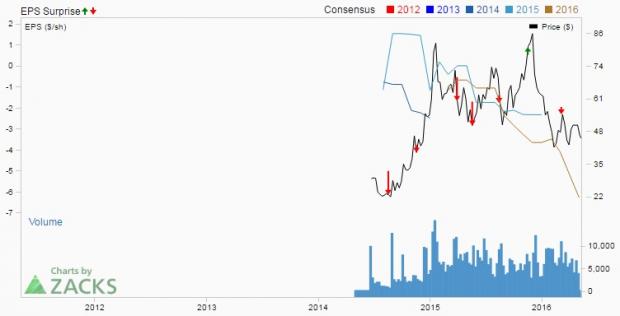 Earnings Whispers?

Our proven model does not conclusively show that Kite Pharma is likely to beat earnings this quarter. That is because a stock needs to have both a positive Earnings ESP and a Zacks Rank #1 (Strong Buy), #2 (Buy) or #3 (Hold) to be able to beat earnings. That is not the case here as you will see below.

Zacks ESP: Earnings ESP for Kite Pharma is -11.48%. This is because the Most Accurate estimate is a loss of $1.36 per share while the Zacks Consensus Estimate is a loss of $1.22 per share.

Zacks Rank: Kite Pharma carries a Zacks Rank #4. Kite Pharma's Zacks Rank #4 when combined with an ESP of -11.48% makes surprise prediction difficult.

We caution against stocks with a Zacks Rank #4 and 5 (Sell-rated stocks) going into the earnings announcement, especially when the company is seeing negative estimate revisions.

Stocks That Warrant a Look

Here are some health care stocks you may want to consider as our model shows that they have the right combination of elements to post a beat this quarter.

The Earnings ESP for OvaScience, Inc. OVAS is +6.67% and it carries a Zacks Rank #3. The company is expected to release first-quarter results on May 5.

Jazz Pharmaceuticals JAZZ has an Earnings ESP of +6.11% and carries a Zacks Rank #3. It will be reporting first-quarter results on May 10.

Want the latest recommendations from Zacks Investment Research? Today, you can download 7 Best Stocks for the Next 30 Days. http://www.zacks.com/registration/pfp/?ALERT=RPT_7BST_LP194&... blog">Click to get this free report >>
Want the latest recommendations from Zacks Investment Research? Today, you can download 7 Best Stocks for the Next 30 Days.
Click to get this free report
AMGEN INC (AMGN): Free Stock Analysis Report
KITE PHARMA INC (KITE): Free Stock Analysis Report
JAZZ PHARMACEUT (JAZZ): Free Stock Analysis Report
OVASCIENCE (OVAS): Free Stock Analysis Report
To read this article on Zacks.com click here.