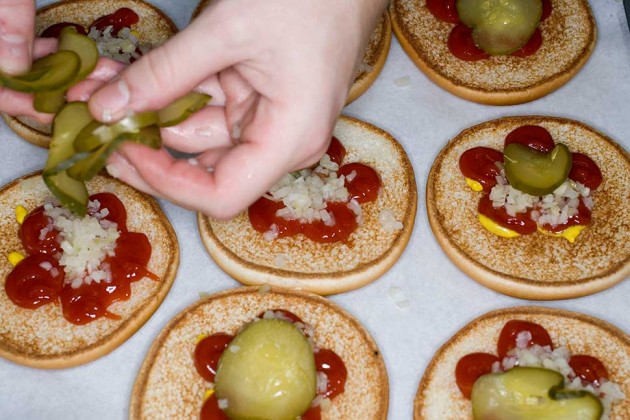 Photograph by Reyer Boxem/Redux
McDonald's (MCD) recently expanded its build-your-own burger test. Now, in four Southern California stores, customers will be encouraged to assemble any combination of the following:
Beef patty: One or two
Bun: Buttered toasted bakery-style bun, buttered toasted artisan roll
Cheese: American, sharp white cheddar, pepper jack
Toppings: Chili lime tortilla strips, guacamole, red onion, caramelized grilled onions, jalapeños, grilled mushrooms, lettuce, pickles, tomato, Big Mac sauce, spicy mayo, creamy garlic sauce, BBQ sauce, mayonnaise, ketchup, mustard, bacon

That's a lot of toppings. The point is less to satisfy every customer's whims and more to discover popular combinations that McDonald's—which hasn't managed togenerate a hit recently—can export to the rest of the country.
Soda makers Coca-Cola (KO) and Pepsi (PEP) have taken similar approaches with new machines that let people mix their own beverage combos. (Coke's Freestyle machines are in McDonald's stores.) Coca-Cola rolled out Fanta Cherry in supermarkets after discovering it had become  a popular selection on the Freestyle, and Pepsi told Bloomberg Businessweek in May that it will use the insights from its Spire machines to "tailor specific offerings based on consumer preferences."
Customers can already customize their orders at such popular chains as Subway and Chipotle (CMG). Even McDonald's will usually let you modify your burger (within reason). This time, though, McDonald's will have customers place their orders via tablet, which means that the Golden Arches can analyze the orders to learn which ingredient combinations are most popular. If a limited-time-only McFuego (I'm thinking: pepper jack, jalepenos, spicy mayo) comes to your local McDonald's, you'll have only Southern Californians to blame.
http://www.businessweek.com/articles/2014-09-15/mcdonald-s-i...