The third-quarter 2017 reporting cycle is showing positive trends with impressive revenue growth and favorable estimate revisions.
Per the latest Earnings Trends, total earnings of the 327 S&P 500 members who have already reported are up 7.8% on a year-over-year basis (74.9% of the companies beat EPS estimates). Total revenues are up 6.5% (65.7% of the companies beat top-line estimates).
Third-quarter earnings of S&P 500 companies are anticipated to be up 5.6% from the year-ago quarter on revenues that are estimated to increase 5.5%. However, considering the double-digit earnings growth in the last two quarters and an anticipated growth rate of 7.3% in the fourth quarter, the third-quarter earnings growth rate is the lowest.
Notably, the Industrial Products, Technology, Construction and Medical sectors are turning out to be better performers. However, the Finance sector's performance is below average in the quarter.
Technology Earnings So Far
Notably, the sector is benefiting from increasing demand for data centers and cloud-based platforms. Demand for augmented/virtual reality devices, advanced driver assisted systems (ADAS), Artificial Intelligence (AI) solutions and Internet of Things (IoT) related software has also increased.
This is evident from the results of Intel INTC and Microsoft MSFT.
So far, 56.3% of the technology companies in the S&P 500 index have reported results. Total earnings of these technology companies are up 21.5% on a year-over-year basis (82.4% of the companies beat EPS estimates) while total revenues are up 7.7% (85.3% of the companies beat top-line estimates).
Upcoming Releases
Let's take a sneak peek at two technology companies that are set to report their quarterly earnings on Nov 6:
We expect Microchip Technology's MCHP fiscal second-quarter 2018 earnings to benefit from an enhanced product portfolio. The recent additions to its portfolio include new sets of microcontrollers such as SAM D5x and SAM E5x, MEC17XX and MEC14XX series of embedded controllers and SST26WF064C, a low-voltage 64 megabit flash memory device, among others.
Notably, the company had reaffirmed its second-quarter guidance backed by successful execution of its strategic initiatives, optimization of manufacturing operations and a favorable macro environment.
Microchip stock has gained 45.7% year to date, substantially outperforming the 28.3% rally of the industry it belongs to. Microchip has a Zacks Rank #3 (Hold).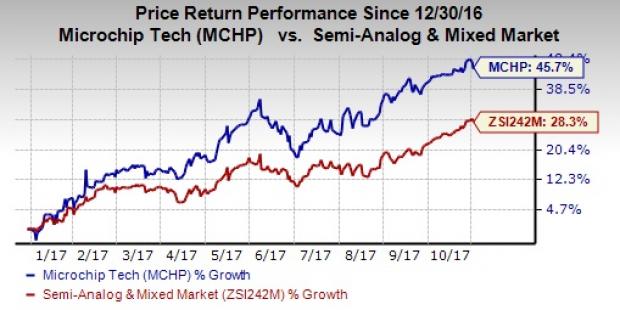 We anticipate ON Semiconductor Corporation ON to benefit from improving end-markets. A diversified customer and product base resulting in lower customer and product concentration risk is further beneficial for the company. Traction in CMOS image sensor business and ADAS related applications will boost the top line.
Additionally, the acquisition of Fairchild has provided the company with a significant position in the power semiconductor market. Revenue contribution from Fairchild in the near to mid-term is expected to be strong. The company has also revised its annual synergies run rate from the Fairchild acquisition to $180 million, up from the previous target of $160 million for 2017.
ON Semiconductor stock has gained 66.5% year to date, substantially outperforming the 28.3% rally of the industry it belongs to. The company currently has a Zacks Rank #2 (Buy).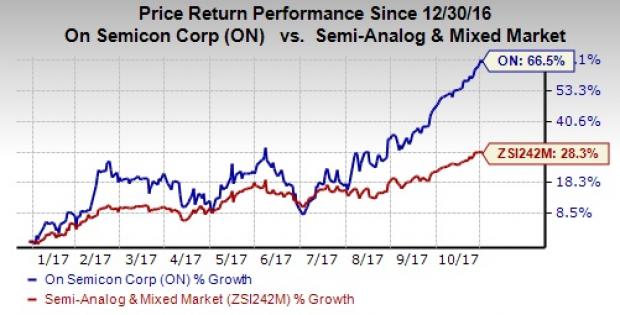 You can see the complete list of today's Zacks #1 Rank (Strong Buy) stocks here.
Looking for Stocks with Skyrocketing Upside?
Zacks has just released a Special Report on the booming investment opportunities of legal marijuana.
Ignited by new referendums and legislation, this industry is expected to blast from an already robust $6.7 billion to $20.2 billion in 2021. Early investors stand to make a killing, but you have to be ready to act and know just where to look.
See the pot trades we're targeting>>
Want the latest recommendations from Zacks Investment Research? Today, you can download 7 Best Stocks for the Next 30 Days.
Click to get this free report
Microsoft Corporation (MSFT): Free Stock Analysis Report
Intel Corporation (INTC): Free Stock Analysis Report
Microchip Technology Incorporated (MCHP): Free Stock Analysis Report
ON Semiconductor Corporation (ON): Free Stock Analysis Report
To read this article on Zacks.com click here.