PPG Industries, Inc. PPG has a diversified business and a leading position in several paints and coatings end markets. The company has taken steps to grow its business organically as well as reduce costs. However, PPG Industries faces a number of headwinds, including a still sluggish global economy. The company's earnings are also exposed to unfavorable currency fluctuations.
Let's have a quick look at this Pittsburgh-based coatings giant's second-quarter 2017 release.
Estimate Trend & Surprise History
Investors should note that the earnings estimate for PPG Industries for the second quarter has been going down over the last month. PPG Industries has beaten the Zacks Consensus Estimate in all the 4 trailing quarters with an average beat of 1.11%.
Earnings

PPG Industries logged adjusted earnings of $1.83 per share for the quarter, up 5.8% year over year. It beat the Zacks Consensus Estimate of $1.81.
Revenues

PPG Industries posted second-quarter revenues of $3,806 million, up 1% year over year. It missed the Zacks Consensus Estimate of $3,898.6 million. Unfavorable currency swings impacted net sales by around 2%.
Key Stats/Developments to Note
PPG Industries saw flat sales volume year over year in the quarter, with variation by region and business unit. Volumes in the Performance Coatings segment declined 2% as compared to the prior year quarter.
The company said it will resume share repurchases from the third quarter. PPG has plans to deploy at least $2.5 billion to $3.5 billion of cash on acquisitions and share repurchases in 2017 and 2018 combined and is now targeting the top end of that range at a minimum.
PPG Industries, Inc. Price, Consensus and EPS Surprise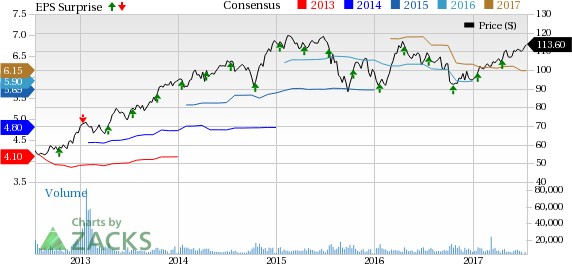 PPG Industries, Inc. Price, Consensus and EPS Surprise | PPG Industries, Inc. Quote
Zacks Rank
PPG Industries currently carries a Zacks Rank #4 (Sell), but that could change following the company's earnings report which was just released.
Market Reaction
PPG Industries' shares were inactive in pre-market trading. It would be interesting to see how the market reacts to the results during the trading session today.

Check back later for our full write up on PPG Industries' earnings report!
3 Top Picks to Ride the Hottest Tech Trend
Zacks just released a Special Report to guide you through a space that has already begun to transform our entire economy... Last year, it was generating $8 billion in global revenues. By 2020, it's predicted to blast through the roof to $47 billion. Famed investor Mark Cuban says it will produce "the world's first trillionaires," but that should still leave plenty of money for those who make the right trades early. Download Report with 3 Top Tech Stocks >>
Want the latest recommendations from Zacks Investment Research? Today, you can download 7 Best Stocks for the Next 30 Days.
Click to get this free report
PPG Industries, Inc. (PPG): Free Stock Analysis Report
To read this article on Zacks.com click here.
Zacks Investment Research