Newspaper shares rise in aftermath of hotly contested election
Nonprofit news organizations also register increase in support
The nonprofit news organization ProPublica typically receives about 10 donations a day. On Monday, its website was deluged with about three every minute.
ProPublica is one of several outlets, including the New York Times and Wall Street Journal, witnessing a swell in donations or subscriptions since Donald Trump's victory in the Nov. 8 election. ProPublica, the Times and the Washington Post got a boost Sunday from HBO comic John Oliver, who lamented "fake facts" that circulated on social media during the campaign and urged viewers to "support actual journalism."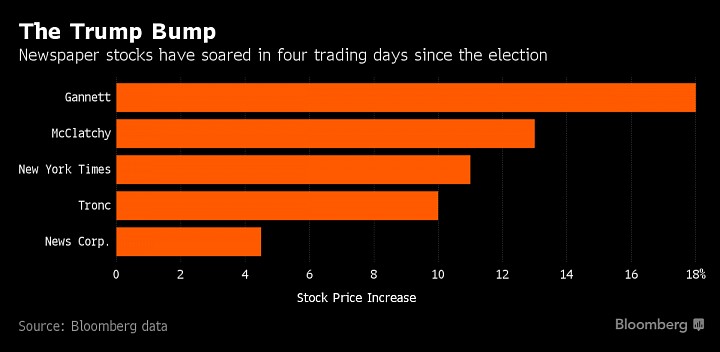 "A lot of people after the election feel compelled to respond in one civic way or another, and journalism is an important part of that," said Richard Tofel, ProPublica's president.
The support is a hopeful sign for an industry looking to answer how so many journalists missed the Trump surge. Hurt by the loss of readers and advertisers over many years, newspaper publishers have had to cut their staffs and pare their coverage. The Wall Street Journal cut at least 50 positions this month.
At the Times, new print and digital subscriptions have risen at four times their normal rate since election day, according to spokeswoman Eileen Murphy. The...
More