European stocks rose for the first time in nine days as optimism that central bankers around the world will continue to support economic recovery helped the Stoxx Europe 600 Index rebound from a two-week low.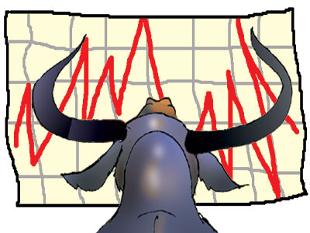 Air France-KLM Group gained 3.6 percent after France's prime minister asked its pilots to end a strike. DS Smith Plc advanced 5.1 percent after saying sales are increasing at a faster pace than last year. Daily Mail and General Trust Plc dropped to an 11-month low after saying a delayed release of its risk-management-solutions product will result in an impairment and higher costs. Cie. Financiere Richemont SA fell 4.1 percent after five-month sales growth missed estimates.
The Stoxx Europe 600 Index climbed 0.5 percent to 344.39 at the close of trading. The gauge had declined 1.7 percent since Sept. 4 when the European Central Bank's surprise decision to cutinterest rates and start buying securitized debt sent European equities to a two-month high.
"A strong U.S. economy will reassert itself as the engine for global growth," said James Butterfill, London-based head of global equity strategy at Coutts & Co., which manages 28.7 billion pounds ($47 billion). "The Fed will probably say they will continue to taper quantitative easing to have it end in October or November, and continue low rates for long. I don't think we'll have clarity on when the first rate hike will be. They will leave that one open purely because there have been a few weaker data points."
Fed Policy
The Federal Reserve will announce its monetary-policy decisions at 2 p.m. in Washington and Fed Chair Janet Yellen will hold a press conference 30 minutes later. The central bank may reduce monthly bond purchases by $10 billion to $15 billion, keeping it on track to announce an end to the program in October, economists surveyed by Bloomberg predicted.
Investors speculate the central bank will maintain its pledge to keep its benchmark rate low for a considerable time after the asset buying ends.
The People's Bank of China joined the European Central Bank in boosting liquidity by injecting 500 billion yuan ($81 billion) into the nation's largest banks.
In the U.K., the unemployment rate fell to the lowest level in six years, while Bank of Englandpolicy makers split for a second month on the timing of an interest-rate increase. Minutes of the Monetary Policy Committee's Sept. 3-4 meeting showed two members voted for a 25 basis-point increase, while seven favored the status quo.
Scottish Question
Investors are also watching the final day of campaigning over Scotland's future in the U.K. before a vote on independence tomorrow. Three polls last night showed the anti-independence group leading the Yes campaign by 52 percent to 48 percent, excluding undecided voters.
National benchmark indexes rose in all of the western European markets today except the U.K.Germany's DAX added 0.3 percent and France's CAC 40 climbed 0.5 percent. The U.K.'s FTSE 100 slipped 0.2 percent.
Air France rose 3.6 percent to 8.28 euros, after falling 7.5 percent in the past three days. Speaking on France Inter radio, Prime Minister Manuel Valls asked pilots to end a strike that has forced the carrier's French unit to cancel more than half its flights this week.
DS Smith gained 5.1 percent to 286.9 pence. Corrugated-box volumes improved in all regions in the months since May 1, with growth ahead of the same period last year, the maker of recycled packaging said in a statement today.
Ebro Foods SA (EBRO) added 2.3 percent to 15.39 euros as UBS AG raised its rating on the Spanish maker of rice and pasta products to buy from neutral. The shares had lost 12 percent so far this year through yesterday.
Daily Mail dropped 6.7 percent to 760 pence. The postponement of RMS One will result in a "material impairment" to the value of the asset this year, and operating costs will increase by about 5 million pounds, according to a statement.
Richemont declined 4.1 percent to 84 Swiss francs after the maker of Cartier jewelry and Montblanc pens said five-month sales climbed 4 percent at constant exchange rates, less than the 6 percent growth projected by analysts.
Swatch Group AG lost 2.1 percent to 477.60 francs.