The beleaguered BRL - which one might have expected to get some respite from the fact that Brazilian lawmakers upheld 26 of President Dilma Rousseff's 32 vetos on some $32 billion in expenditures - is plunging anew, puntuating the largest five day drop in four years and hitting fresh record lows agains the dollar: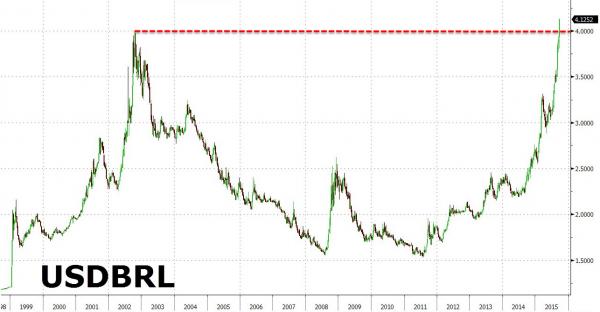 Congress, which looked set to delay a vote on the vetos, decided to go ahead (presumably in light of the FX turmoil that has the central bank operating in "crisis mode") and after a marathon session, Rousseff came away largely victorious. 
But renewed pressure on the BRL suggests the country is far from out of the woods. Here's WSJ with more: 
Congress postponed the vote on Ms. Rousseff vetoes for salary raises for judicial system workers and regarding pension adjustments. Combined, those adjustments would generate additional spending worth 47 billion reais through 2019, according to government estimates.

 

The congress didn't set an exact date to hold a new round of votes on those vetoes.

 

On Tuesday, Brazilian Senate President Renan Calheiros said he favored postponing the vote to make sure the government had enough support to block the new spending.

 

But later in the day several lawmakers argued that it was necessary to vote on the vetoes Tuesday, as originally scheduled, to calm markets after the Brazilian real hit its weakest level against the dollar since its launch in 1994.

 

"This is an important decision…we need to resolve this situation in the congress once and for all. Especially considering today´s economy, Congress needs to give an answer" said Sen. Delcidio do Amaral, the government leader in the Senate.