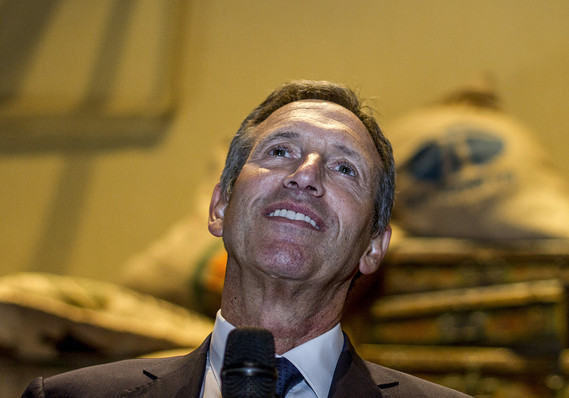 Bloomberg
Howard Schultz, chief executive officer of Starbucks

Why do we shame those trying to do the right thing?

If you want to know why Americans are polarized, poorly informed and unable to solve their chronic issues, take a look at how we vilify people and institutions trying to do something positive, or just minding their own business.
We are too often nasty, snarky, cynical and full of contempt. In many cases, our negative reactions to politicians, corporations and public figures are well-founded. But we misfire. A lot. We tend to pummel people and institutions trying to get it right. We tend to ignore real bad deeds. We spin events to fit our own narrative. It happens on the left and on the right.
Hey, as a columnist who takes regular shots at multiple targets, take my word for it: Cynical sounds smart. It's easy. But too often it's counterproductive.
Consider that on March 23, Starbucks Corp. SBUX, +0.69% mercifully put an endto its
https://twitter.com/search?f=realtime&q=race%20together&src=tyah
. By now you know that was the one aimed at generating a national conversation about race.
Over coffee. At Starbucks stores. With a barista.
Sure, this effort was as clumsy as it sounded, but was it really deserving of the response? Starbucks and Howard Schultz, the company's CEO, were the subject of ridicule, sometimes vicious, not only on social networks such as TwitterTWTR, +0.18% and Facebook FB, +0.78% but in the mainstream media.
Starbucks attempted to do something most companies wouldn't dream of doing.
A CNN panel viciously mocked the plan. Comedian Larry Wilmore said he appreciated retailers who "don't force you to talk about the issue while shopping in their stores." Slate's Jordan Weissmann called #racetogether "amusingly ill-conceived" because "nobody wants to talk with a stranger about the gross discrimination faced by America's black and Latino communities during the morning coffee rush." Jeb Lund, writing for Rolling Stone, called it a "noble ambition" that turned into a "bad idea."
But you know what? In the end, Starbucks' move got a lot of people talking about when, where and with whom we should talk about race. It also raised an important point: We don't generally talk about race with people. Period.
So, let's get this straight: A company tries to tackle a big social problem with a token, albeit ill-conceived, effort, and Schultz is found to be worthy of a solid week of public scorn. But a Wall Street bank that admits to robo-signing thousands of cash-strapped borrowers into higher payments , as J.P. Morgan Chase & Co. JPM, +1.78% did March 3, barely registers a blip on the media radar, much less a social-media shaming.
Starbucks attempted to do something most companies wouldn't dream of doing. It injected itself into a sensitive topic. It asked to be included — and of course, make itself a target. That took some guts.
So I looked into it. I found that Starbucks does hire and buy from a lot of minorities, but mostly at the lower rungs. Its board of directors is mostly white. That's a problem. Starbucks also needs to talk about why its stores are ubiquitousin white, affluent communities, but aren't visible in poorer ones.
http://www.marketwatch.com/story/starbucks-critics-are-ruini...