About company
Emergent BioSolutions is a multinational specialty biopharmaceutical company headquartered in Gaithersburg, Maryland. It develops vaccines and antibody therapeutics for infectious diseases, oncology and autoimmune disorders, and provides medical devices for biodefense purposes.
Technical Analysis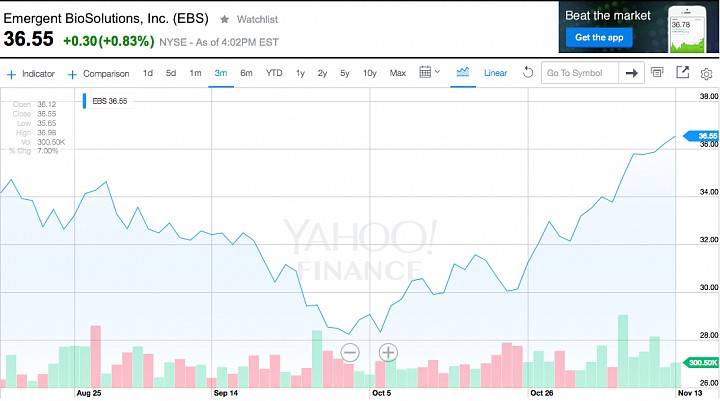 As we could see, since the beginning of October Emergent BioSolutions Company's share price has demonstrated an increase of 29,38% and now go on rising. Share price locates at the top of price corridor showing primary positive trend.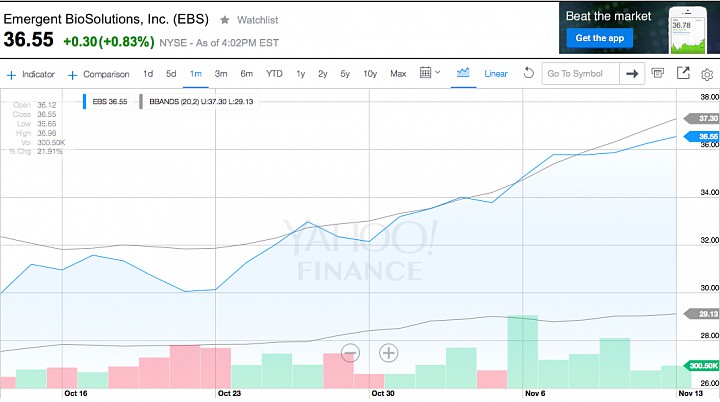 In the picture above Emergent BioSolutions share price is shown in the period of one last month. Also technical analysis tool Bollinger Bands is set up. And investor could analyze that company share price has been fluctuating nearby upper indicator's line and sometimes has broken through it. This moment can be interpreted as signal to future growth of share price and traders should begin to think about buying shares.
Financial Highlights
On November 5th Emergent BioSolutions reported Third Quarter and Nine Months 2015 Financial Results. After that announcement there was an immediate positive impact on share prices and than it has kept the tendency positive for several days. Emergent BioSolutions has shown only positive results:
| | | |
| --- | --- | --- |
| | Q3, mln $ | Y/Y change |
| Total Revenues | 164.9 | +20% |
| GAAP net income | 36.9 | +69% |
| EBITDA | 61.8 | +54% |
That is why share price consists of investors' high expectations about future company's performance and successful prospects.
Share Price Performance Relative to Peers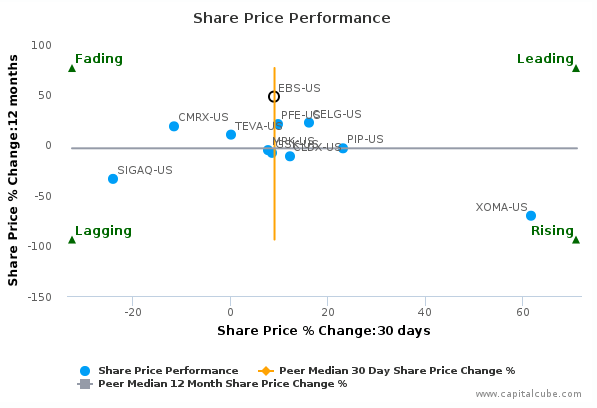 Emergent BioSolutions change in share price of 47.79% for the last 12 months is better than its peer median.
The 30-day trend in its share price performance of 8.97% is now around the peer median.