Just hours after Snap(chat), or rather its shareholders, were gravely injured when the stock tumbled below its IPO price, Morgan Stanley decided to add some insult, when its analyst Brian Nowak downgraded the social network, or photo app, or whatever it is these days, to equal-weight, cutting its price target to $16 from $28 on ad product and competition concerns. Shares promptly tumbled another 2.7% to $16.50 in pre-market trading on the downgrade .
According to the MS analyst, the company's ad products are taking longer to improve and evolve than previously expected, noting "our latest industry conversations indicate many advertisers are struggling to develop SNAP ad units with sufficient completion rates and consistent return on investment." He also cited increasing competition from Instagram, which appears to be giving advisers sponsored lenses for free, according to checks. Nowak calls this troubling as he estimates sponsored lenses and similar products accounting for ~50% of SNAP's ad revenue.
MS alslo listed 4 larger than expected challenges:
4 Larger than Expected Challenges. First, our latest industry conversations indicate many advertisers are struggling to develop SNAP ad units with sufficient completion rates and consistent return on investment. Lower ROI holds back incremental ad dollars (see Exhibit 5). Second, we believe that SNAP's ad ROI measurability has not improved as much as we had hoped or as much as expected by agencies this year...and that it remains lower than at other platforms (like Facebook and Instagram). This also holds back advertisers' willingness to increase ad budgets. Third, SNAP's self-serve automated bidding platform (which is intended to move beyond direct ad sales) is not scaling as quickly as we expected, as we initially thought the product would be fully launched in early 2017. We now do not expect it to scale until 4Q:17 or early 2018. Fourth, we believe Instagram is likely to be more disruptive than previously expected as our industry conversations indicate that Instagram is giving advertisers sponsored lenses for free. This is troubling for SNAP's forward ad growth given Instagram's scale (450mn+ estimated daily active users, compared to SNAP's 166mn), SNAP's current $15+ CPMs on lenses, and the fact that we estimate sponsored lenses and similar products make up approximately 50% of SNAP's ad revenue.
He then warns that "Weak Third Party Daily Active User (DAU) Data Cause Us to Lower These Estimates, Too."
Adding to SNAP's challenges, we are also lowering our forward DAU estimates (see Exhibit 6) as SensorTower app download data indicates that SNAP US and Europe + ROW app download declines have accelerated to ~15- 30% (see Exhibit 7). To be clear, this data does not necessarily correlate to actual DAU trends, but these are troubling directional trends which causes us to lower our DAU outlook. Oddly, we see Facebook app downloads falling as well (which could be due to laws of large numbers), but we note that Instagram appears to be holding up/growing much better. Separately, SNAP's recent experimentation with increased alerts on iOS to re-engage users, in our view, speaks to an increased need to drive growth given the company's previous hesitancy to use reengagements and push notifications to drive user growth.
And some charts: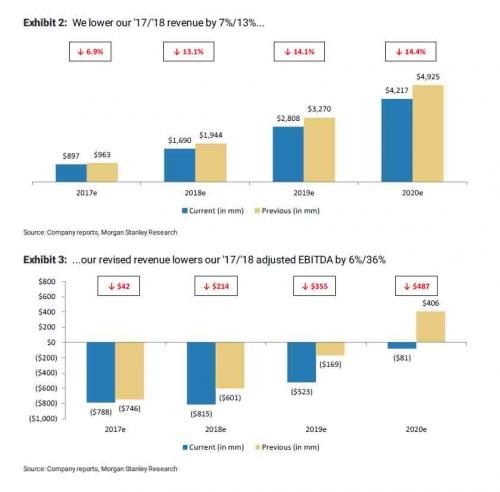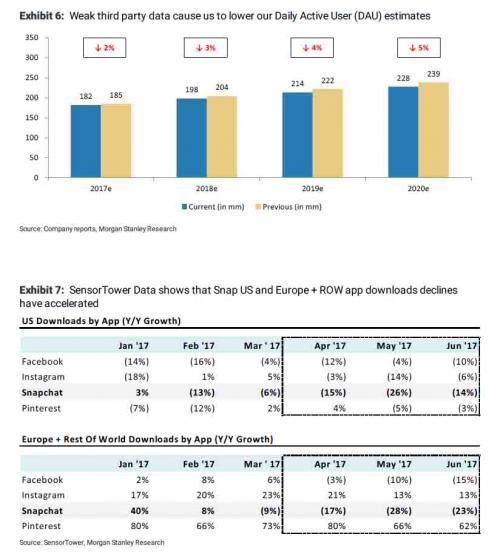 As a reminder, Morgan Stanley, who was an underwriter on the Snap IPO, has had an overweight rating on Snap since initiating coverage in late March. As of Tuesday morning, SNAP has 11 buys, 18 holds, 5 sells with average price target $21; Citi downgraded shares to neutral on June 9 due to user growth concerns. More notably, SNAP short interest is now 28% of the float, or almost 10 days to cover.