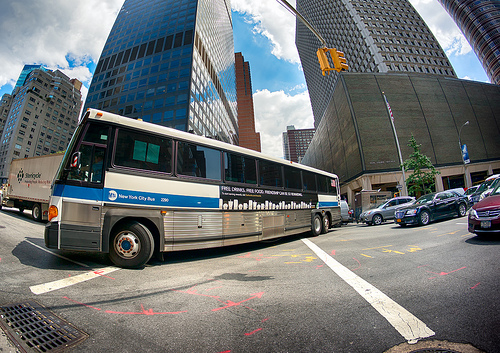 Uber is testing a new ride sharing option in San Francisco, according to TechCrunch, allowing users to ride essentially in buses for a discounted price.
Called "Smart Routes" and available in the mobile application under the uberPOOL tab, the service suggests hot spots for the driver to pick the customer up, TechCrunch reported. The ride will cost $1 or more less than a regular uberPOOL ride.
"We have begun testing a new feature to streamline the uberPOOL experience for both riders and rivers," an Uber representative told TechCrunch. "This experimental feature features, called 'Smart Routes,' aims to simplify pick-ups by encouraging drivers to request a ride along specific routes in San Francisco. Smart Routes is part of our ongoing efforts to increase the efficiency of driver-partners' time spent on the road while helping save time and money."
This new feature is essentially an alternative to taking a city bus, which highlights in real time on the application on certain routes. Uber is currently testing the services in an area of San Francisco where public transportation isn't readily available.
Further, this isn't the only type of alternative ride sharing Uber is currently testing. Drivers can now suggest pick up spots to customers that would in turn save them time and in turn, money on their ride.  
If the service works efficiently enough to make it through the testing faze, it could potentially prove to be a more cost effective way to travel, particularly for commuters. Monthly passes for trains and buses don't come cheap, and if Uber can provide an alternative, perhaps people will join in.
For more business and financial news, click here.
*This is editorial content and expresses the opinion of the author.