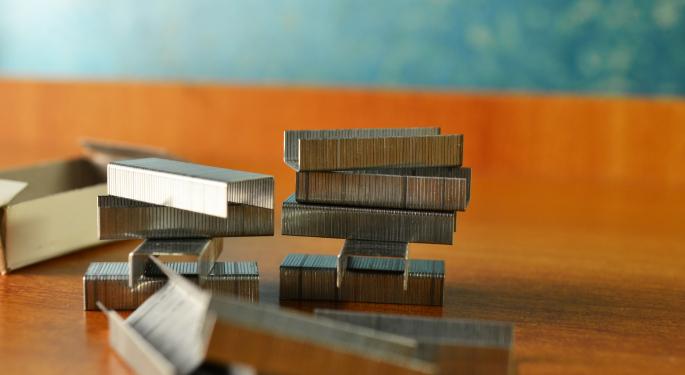 Jefferies has downgraded both Staples, Inc. SPLS 18.53% and Office Depot Inc ODP 39.24% to Hold from Buy, following the termination of their merger.
Analyst Daniel Binder noted that their prior ratings were based on Staples successfully acquiring Office Depot and benefiting from $1 billion plus in synergies.
"On a standalone basis, each company's retail and contract segments are vulnerable to secular decline and increased competition, but remaining synergies to be captured at ODP and cost cutting at SPLS should help offset pressures near-term," Binder wrote in a note.
Will Staples Overcome?
Although both firms face challenges, Binder said Staples is in a better position, as it is focusing on "beyond office supplies" ("BOS") business and FY17 growth should reflect the addition of 100 sales specialists in this category.
Further, the analyst noted that Staple's organization has not been disrupted for the last 15 months and "could potentially take share from ODP in the quarters ahead while ODP struggles to gain its footing."
However, Binder warned that it would be tough for Staples to expand margins without merger synergies.
Meanwhile, Office Depot's operating margins have benefited from store closures and OfficeMax synergies. However, Binder expects these benefits to disappear if revenue trends remain negative.
Although Office Depot should see some near-term synergy benefits from merger integration activities that were postponed due to the anticipated acquisition by Staples, these activities could disrupt company's commercial business.
"[W]e also anticipate that more players, specifically Amazon.com, Inc. AMZN 1.67%, will start to make larger in roads into the commercial market," Binder added.
Binder has a target price of $9 on Staples and $5.25 on Office Depot.
The Deal
Staples and Office Depot have called off their proposed merger after the U.S. District Court of Columbia granted preliminary injunction to the Federal Trade Commission to block the merger. Staples, per the merger agreement, will have to pay a $250 million break-up fee to Office Depot, which the analyst says "could be used to buy back shares."
It may be recalled that Staples had warned in March that the merger deal with Office Depot would fall apart if a judge grants a preliminary injunction on behalf of the U.S. Federal Trade Commission, which is seeking to block the deal.
The FTC's complaint states that post-merger, Staples would control more than 70 percent of the office supplies market. The next-largest competitor would possess less than 5 percent.
Shares of Staples and Office Depot have plunged on the merger termination news. At the time of writing, Staples was down 18.19 percent to $8.48 and Office Depot had fallen 39.33 percent to $3.69.
| Date | Firm | Action | From | To |
| --- | --- | --- | --- | --- |
| May 2016 | Jefferies | Downgrades | Neutral | Sell |
| May 2016 | UBS | Downgrades | Neutral | Sell |
| May 2016 | Telsey Advisory Group | Downgrades | Outperform | Market Perform |
© 2016 Benzinga.com. Benzinga does not provide investment advice. All rights reserved.