Swing long in March/16 Coffe futures.Follow El Nino story later!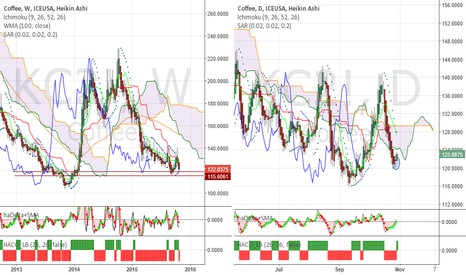 As I published yesterday on Twitter, I enterred 0,5 risk unit wing long in Coffee. I bought March/16 contracts at 120,80 avg. Initial stop is 119,00.

- Daily Heikin Ashi reversal signal. Start of possible bullish wave was visible on yesterday's candle and haDelta.
- We have to be cautious with this long trade, as weekly setup is still bearish , and also on Daily chart we have a thick Kumo above, and also Kijun Sen is a bit far. That's why I use a tight stop.
- 115-119 is a very important supp/res area on weekly.

Keep one eye on Coffee, as the worst El Nino in history is coming! There will be lot of trouble with weather all around the Globe.