BioLineRx Ltd. BLRX announced that its partner Genentech, a member of Roche Holding AG RHHBY has initiated a phase Ib/II study, evaluating BL-8040 in combination with Roche's Tecentriq (atezolizumab) for treatment of patients with metastatic pancreatic ductal adenocarcinoma.

Shares of BioLineRx have underperformed the Zacks classified Medical-Drugs industry so far this year. The stock has declined 8.4% compared with the broader industry's 4.9% increase.





The phase Ib/II multicenter, randomized, controlled, open-label study was designed to evaluate the safety, tolerability and multiple pharmacodynamic parameters of the combination therapy. The study will be conducted on approximately 40 patients.

In the study, patients will be administered BL-8040 injections as priming monotherapy for five consecutive days. Thereafter from day 8 onward, they will receive both BL-8040 and Tecentriq injections and will continue with multiple treatment cycles for up to two years or until disease progression.

It is to be noted that BL-8040 is BioLineRx's one of the leading therapeutic candidates, which has successfully completed a phase IIa study for relapsed/refractory AML and is in the midst of a phase IIb study as an AML consolidation treatment. It is expected to initiate a phase III study in stem cell mobilization for autologous transplantation. Earlier in May 2017, BioLineRx had announced that it has submitted a regulatory filing required to start a phase Ib study for BL-8040 in combination with Tecentriq.

In Sep 2016, BioLineRx had announced initiation of the first phase IIa COMBAT study for evaluating the efficacy of BL-8040 in combination with Merck's MRK Keytruda in patients with pancreatic cancer.

We remind investors that in Sep 2016, BioLineRx Ltd. had entered into a collaboration agreement with Genentech to support several phase Ib studies, investigating BioLineRx's BL-8040 in combination with Atezolizumab. Note that the collaboration is part of Roche's novel cancer immunotherapy development platform MORPHEUS, which is a phase Ib/II adaptive platform to assess the efficacy and safety of combination cancer immunotherapies.

Per the American Cancer Society provided data, 50,000 more patients will be diagnosed with pancreatic cancer in the U.S. in 2017. Pancreatic cancer accounts for about 3% of all cancers in the U.S. and about 7% of all cancer deaths, with pancreatic adenocarcinoma accounting for about 95% of these cases. This indicates a huge market potential for this combination therapy.
BioLineRx Ltd. Price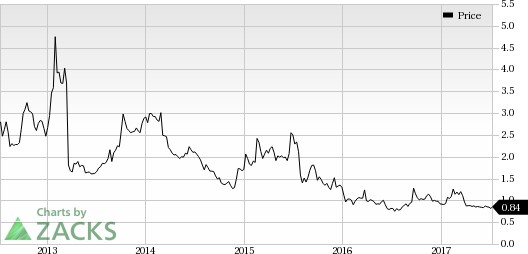 Zacks Rank & Key Picks
BioLineRx currently carries a Zacks Rank #4 (Sell). A better-ranked stock in healthcare sector is Astrazeneca PLC AZN, sporting a Zacks Rank #1 (Strong Buy). You can see the complete list of today's Zacks #1 Rank stocks here.
Astrazeneca's earnings per share estimates edged up from $1.84 to $1.85 for 2017 and from $1.83 to $1.89, over the last 60 days. The company has delivered positive earnings surprises in all of the four trailing quarters with an average beat of 142.60%. Astrazeneca's shares have rallied 23.1% so far this year.
More Stock News: 8 Companies Verge on Apple-Like Run
Did you miss Apple's 9X stock explosion after they launched their iPhone in 2007? Now 2017 looks to be a pivotal year to get in on another emerging technology expected to rock the market. Demand could soar from almost nothing to $42 billion by 2025. Reports suggest it could save 10 million lives per decade which could in turn save $200 billion in U.S. healthcare costs.
A bonus Zacks Special Report names this breakthrough and the 8 best stocks to exploit it. Like Apple in 2007, these companies are already strong and coiling for potential mega-gains. Click to see them right now >>
Want the latest recommendations from Zacks Investment Research? Today, you can download 7 Best Stocks for the Next 30 Days.
Click to get this free report
Roche Holding AG (RHHBY): Free Stock Analysis Report
Astrazeneca PLC (AZN): Free Stock Analysis Report
Merck & Company, Inc. (MRK): Free Stock Analysis Report
BioLineRx Ltd. (BLRX): Free Stock Analysis Report
To read this article on Zacks.com click here.
Zacks Investment Research