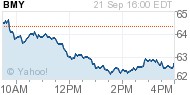 TRENTON, N.J. (AP) -- Stocks of makers of biologic and "specialty" drugs plunged Monday after Democratic presidential frontrunner Hillary Clinton said she'll soon release a plan to address "price gouging" in the industry.
It was the one of the worst days of the year for the stock market performance of the biotech industry.
Clinton's announcement on Twitter follows news that drugmaker Turing Pharmaceuticals hiked the price of a 53-year-old drug for a potentially deadly parasitic infection from $13.50 per pill to $750. Because the drug, Daraprim, treats patients with compromised immune systems, the price hike of more than 5,000 percent sparked outrage from medical groups representing doctors who care for patients with HIV and other infectious diseases.
One drugmaker, Mallinckrodt Pharmaceuticals PLC, saw shares drop 10.02 percent. The top 20 drugmakers whose products include biologic or specialty drugs posted share drops of more than 2 percent. And the Nasdaq Biotechnology Index dropped 4.4 percent.
Biologic drugs are produced in living cells and specialty drugs treat complex, chronic conditions, usually need to be injected and sometimes refrigerated, and also are very expensive.
Many new drugs for cancer, hepatitis C, rare disorders and even a new class of cholesterol drugs have prices in the range of $80,000 or more for a year or course of treatment. Some are major medical advances, saving lives and other medical costs. Others are...
More