Summary
A combination of factors suggests a correction in the stock market may be coming.
Friday's sell-off triggered by Rosenberg's words may be the starting point.
I expose three of the shorts I'm using to hedge my long positions.
It's a common opinion that the current bull market is the result of aggressive and (I believe) excessive stimulus from central banks. While markets in several regions such as Europe, Brazil and China have already experienced significant corrections during the last 12 months, U.S. stock markets reached new highs after a few corrections resulting from concerns related to Chinese slowdown, Fed tightening, Brexit.
The current bull market has led the S&P 500 (NYSEARCA:SPY) to a P/E multiple of 25, the highest multiple reached during the last century, if we exclude the .com bubble. This valuation is not supported by positive expectations for economic growth, but mainly a result of monetary stimulus.
Many famous investors have placed bearish bets, including George Soros, Carl Icahn, David Tepper and Jeffrey Gundlach. Market operators are more and more concerned about the effects of rising interest rates on the stock market. Gold, the main safe haven and store of value, has been trading higher since January as a consequence.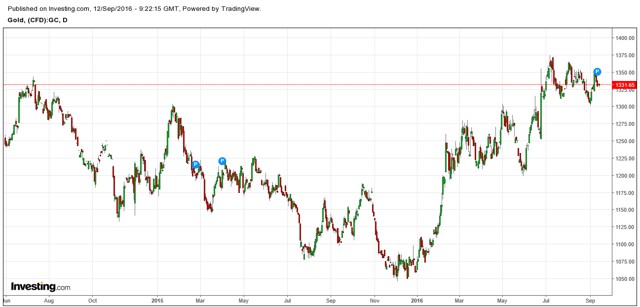 Since the Jackson Hole Symposium, central banks around the world have constantly disappointed investors. The European Central Bank did not extend nor increase QE, something many market operators were expecting. The Bank of Japan didn't expand its stimulus measures either. But the most important event occurred on Friday, when Fed's Rosengren, who used to have a dovish stance, made the case for a rate hike at the September meeting. The markets badly reacted to this news, with the S&P 500 falling by 2.5% and the VIX rising by 39% in one day.
While I know that one day with a 2.5% decline doesn't mean a correction is starting, I'm concerned about the level of anxiety in the market for the possible rate hike that would lead interest rates to 0.75%. The violent reaction to Rosengren's words could be a sign that market sentiment is reversing. With central banks stepping back, there would be nothing left to sustain the current bull market. The violent market reaction followed a 6% increase in the probability of a rate hike in September and an 8% percentage increase in the probability of a rate hike in December.
A rate hike this month is not the only factor that is changing market sentiment. Since the beginning of September, every important macroeconomic indicator in the U.S. has disappointed investors. The ISM Manufacturing PMI in August was 49.4, missing the estimate of 52 and down from 52.6 in July. We know that 50 is an important threshold since below such level the index usually anticipates a slowdown in the economy. The ISM non-manufacturing PMI in August was 51.4 against consensus of 55. Non-farm payrolls increased just 151,000 in August vs 180,000 consensus, while unemployment rate was slightly above expectations (4.9% vs 4.8%).
I believe these conditions may anticipate a further decline. We should keep our eyes on markets in the next trading days to see what happens and try to find some confirmation.
Regarding price action, investors who like technical analysis have certainly noticed the "bullish trap" pattern completed after Friday's sell-off.
I'm a long/short investor, and I usually hedge my long positions with several shorts every time I expect a significant market correction. For example I shorted several European stocks a few weeks before Brexit, and I disclosed two of the...
More