EUR/NZD shows some promise as a bullish set-up from this 4 hour time-frame. That is if it is able to sustain its momentum and push through the importance resistance pivot at 1.6432. It's similar to the set-up I looked at earlier with the EUR/AUD.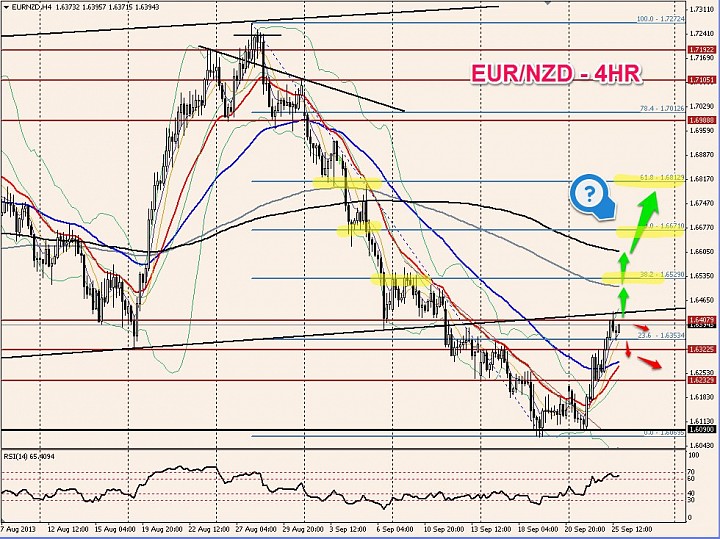 The EUR/NZD pair had an impressive run of 1,160 pips over the first 3 weeks of September.

However, this does leave the pair open to a sharper retrace. 
The pair put in a double bottom pattern near 1.6070/90, with a neckline measuring about 145 pips.

The measured projection from the double bottom pattern (from 1.6230 to 1.6380, ~145 pips) completed.

Now this bottoming action is threatening to turn into a reversal and perhaps new trend action.

For instance we can use 50% and 61.8% fib levels to give us some guideposts if we get a deeper retrace.

Therefore, the 38.2% (1.6530), 200-sma (1.6610), 50% (1.6670), and 61.8% (1.6815)  can be used as key resistance levels.

To get to even the 200-SMA (in black) @ 1.6610 is ~215 pips away from the current price.

If the pair is rejected at this current resistance (1.6410), then we are likely looking at some sideways/ranging action in the short term as the bulls consolidated their recent holdings.  
OK, so lets see where this goes over the next few days. My bias is for the retrace to catch and for the pair to go higher. I'll be waiting for a break of the resistance. 
Here's the EUR/NZD in the 1-Hour: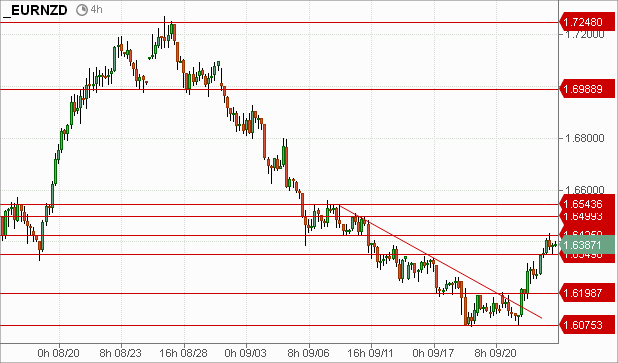 (Click on the image and press the right arrow button to see the latest price action).

- Nick