Premium industrial metals & minerals company, BHP Billiton Limited BHP, recently reported fourth-quarter fiscal 2017 (ended Jun 30, 2017) operational results.
Aggregate iron ore output was 60 million tons (Mt) during the reported quarter, up 8% year over year. The upside was stemmed by robust productivity improvement across the entire supply chain process and favorable climatic conditions.
The company anticipates to accrue iron-ore productivity within the range of 239–243 Mt (estimating a year-over-year upside of 3–5%) for fiscal 2018. It noted that increased productivity of the Western Australia iron ore mine, as well as the recently issued (Jun 2017) funding of $184 million for the South Flank project, would likely augment gross output of this major steel making company in the quarters ahead.
Notably, energy coal's output in the reported quarter came in at 8 Mt, up 30% year over year. However, the company expects its productivity to remain nearly flat in fiscal 2018.
Nonetheless, we notice that in the fiscal fourth quarter, output volumes of petroleum, copper and metallurgical coal dipped 7%, 6% and 27%, respectively on a year-over-year basis. Lower productivity in the Queensland coal mine (due to cyclone Debbie) dented the aggregate output of metallurgical coal, while lower yield of major mines, such as Escondida, hurt the quarterly copper productivity.
BHP Billiton predicts that its petroleum production would decline to nearly 180–190 million barrels (estimating year-over-year downside of 9–13%) of oil equivalent in fiscal 2018. The company stated that the downside would be stemmed by reduced onshore U.S. and conventional business volumes.
Moving Ahead
BHP Billiton intends to boost its near-term operational performance on the back of increased safety measures, greater capital discipline and higher productivity. The company anticipates that the successful accomplishment of the three major petroleum and potash projects (worth $5.1 billion) would boost its productivity, moving ahead.
Moreover, projects such as construction of the Bass Strait Longford Gas Conditioning Plant and Mad Dog Phase 2 project are anticipated to augment BHP Billiton's productivity over the long term.
Why a Poor Zacks Rank?
Declining iron-ore prices have been hurting the revenues and profits of mining companies like BHP Billiton, Vale S.A. VALE, Rio Tinto plc RIO and Denison Mines Corp. DNN. Over the last three months, iron-ore prices declined nearly 7.34% to $63.90 per ton.
An excess supply situation in the market has been weighing over iron-ore prices. Further slump in prices would continue to thwart the company's results in the quarters ahead as well.
BHP Billiton currently carries a Zacks Rank #5 (Strong Sell).
You can see the complete list of today's Zacks #1 (Strong Buy) Rank stocks here.
Over the last six months, this stock yielded a return of 0.92%, underperforming 4.96% growth recorded by the Zacks classified Basic Materials sector.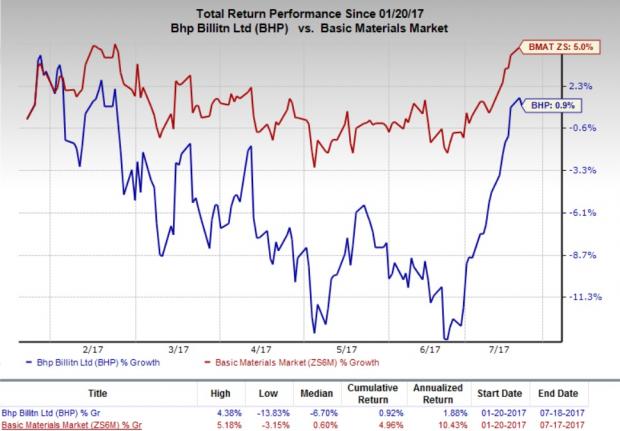 Looking for Stocks with Skyrocketing Upside?
Zacks has just released a Special Report on the booming investment opportunities of legal marijuana.
Ignited by new referendums and legislation, this industry is expected to blast from an already robust $6.7 billion to $20.2 billion in 2021. Early investors stand to make a killing, but you have to be ready to act and know just where to look. See the pot trades we're targeting>>
Want the latest recommendations from Zacks Investment Research? Today, you can download 7 Best Stocks for the Next 30 Days.
Click to get this free report
VALE S.A. (VALE): Free Stock Analysis Report
BHP Billiton Limited (BHP): Free Stock Analysis Report
Rio Tinto PLC (RIO): Free Stock Analysis Report
Denison Mine Corp (DNN): Free Stock Analysis Report
To read this article on Zacks.com click here.
Zacks Investment Research