As its October 1st, and the turn of the month, we should be on the lookout for manufacturing PMI's for the month of September coming out from most countries. In the Euro-zone, the news was a bit of a set-back as Spain's and Italy's manufacturing sectors, while expanding, came in softer than expectations, and also weaker than the prior month.
Best way to show you the context of the numbers is to put it visually, so here's the PMI's from Spain and Italy (courtesy of Markit Economics):

In Spain the PMI came in at 50.7 for September, weaker than the 51.6 forecast, and the previous of 51.1 from August.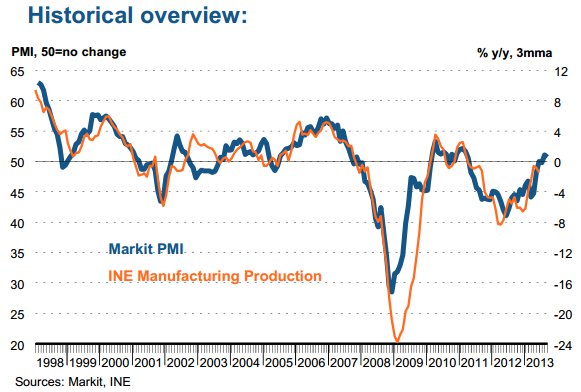 Despite the headline miss, if we look at the historical overview, its important to note that Spain's manufacturing sector has recovered from very low level in 2011-2012. The fact that we are talking about Spain posting above 50 levels, indicating expansion, it the bright spot here.

In Italy: Pretty much same story in Italy where the index fell to 50.8 in September compared to 51.3 in August. The forecast figure had been 51.2.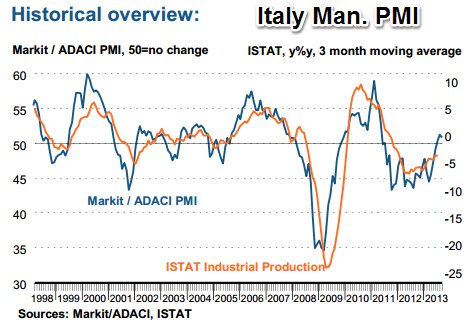 But just like with Spain, the important thing to note is that we are above the 50 level, and only for the 3rd month out of the last... 2-3 years.

Hopefully the political situation in Italy doesn't derail the positives seen here.
So, putting these 2 together, despite the overall Euro-zone PMI meeting its expectation of 51.1, Spain's and Italy's readings came in below expectations. That continues the "fragile, low-growth" recovery that the Euro-zone appears to be on, and certainly will keep the ECB rather dovish into the next few quarters.

- Nick