Watch to see whether this bounce holds today in the AM and trade is accordingly. Could be a dead cat bonce.
Indicators
VIX - It was up 44% yesterday! The highest since the close on election day 11/8/16.
T2108 (% of stocks trading below their 40-day moving average) - A massive 23% sell-off, all the way down to only 35%. Incredibly bearish.
Moving averages: SPX lost the 20-day at the open and eventually pushed through the 50-day moving average as well.
Industries to Watch Today
No one particular industry that is shining after yesterday's move. Everything is in play.
My Market Sentiment
I don't like this market. I think the breadth is horrible and the bulls have little motivation to push the market to substantial new all-time highs.
Large caps > Small caps.
S&P 500 Technical Analysis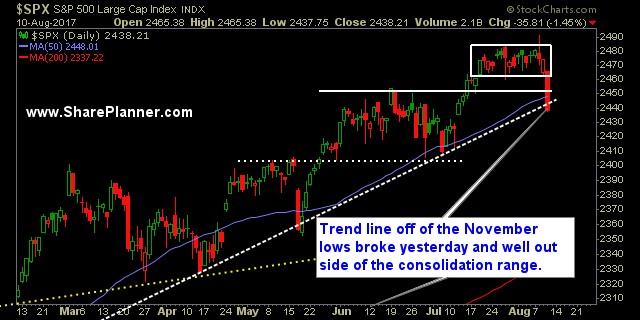 Recent Stock Trade Notables:
More