Galapagos NV GLPG has announced initiation of a new phase II study, evaluating its lead pipeline candidate filgotinib for treatment of adult patients with non-infectious uveitis.

The study will be led by its partner Gilead Sciences, Inc. GILD. Note that, Galapagos had signed a collaboration agreement with Gilead in Dec 2015 to develop and commercialize filgotinib for inflammatory indications.

Shares of Galapagos have significantly outperformed the Zacks classified Medical-Biomed/Genetics industry so far this year. The stock has rallied 18.7% compared with the broader industry's decline of 2.2%.





The phase II trial is designed to evaluate the safety and efficacy of filgotinib in patients with active, non-infectious uveitis, compared with placebo. The study will be conducted on approximately 110 patients, who will be administered filgotinib or placebo for 52 weeks. The primary outcome of this analysis will be measured by the proportion of subjects failing to respond to treatment by week 24. This trial is an addition to the other ongoing researches on filgotinib.

We remind investors that in Apr 2017, Galapagos had initiated three new phase II proof-of-concept studies, evaluating filgotinib in Sjogren's syndrome, ankylosing spondylitis (AS) and psoriatic arthritis. Earlier in Aug 2016, Gilead had initiated a phase III program (FINCH) on filgotinib to heal rheumatoid arthritis (RA).

Apart from the FINCH program, Gilead's two more ongoing studies are, phase III assessment of filgotinib for treating Crohn's diseases and a phase II / III study for curing ulcerative colitis. Both studies had commenced in the third quarter of 2016.

Galapagos continues to progress on its cystic fibrosis (CF) candidate GLPG2737 with partner AbbVie Inc. ABBV, thus effecting a phase I review of the candidate which the company had initiated in Nov 2016. Notably, Galapagos and AbbVie had entered into a global collaboration agreement in Sep 2013, focused on the discovery, worldwide development and commercialization of potentiator and corrector molecules for treatment of CF.

Going forward, we expect investors' focus to remain on further pipeline updates from the company.
Galapagos NV Price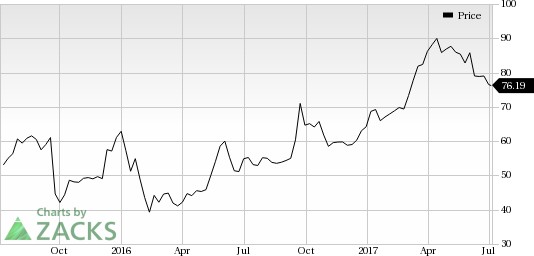 Zacks Rank & Key Picks
Galapagos currently carries a Zacks Rank #3 (Hold). A better-ranked stock in healthcare sector is Bayer AG BAYRY, sporting a Zacks Rank #1 (Strong Buy). You can see the complete list of today's Zacks #1 Rank stocks here.
Bayer's earnings per share estimates have inched up from $8.85 to $8.93 for 2017 and from $9.53 to $9.61 for 2018, over the last 30 days. The company has delievered positive earnings surprises in three of the four trailing quarters with an average beat of 10.25%. Shares of Bayer have soared 23.4% so far this year.
Today's Stocks from Zacks' Hottest Strategies
It's hard to believe, even for us at Zacks. But while the market gained +18.8% from 2016 - Q1 2017, our top stock-picking screens have returned +157.0%, +128.0%, +97.8%, +94.7%, and +90.2% respectively.
And this outperformance has not just been a recent phenomenon. Over the years it has been remarkably consistent. From 2000 - Q1 2017, the composite yearly average gain for these strategies has beaten the market more than 11X over. Maybe even more remarkable is the fact that we're willing to share their latest stocks with you without cost or obligation. See Them Free>>
Want the latest recommendations from Zacks Investment Research? Today, you can download 7 Best Stocks for the Next 30 Days.
Click to get this free report
AbbVie Inc. (ABBV): Free Stock Analysis Report
Bayer AG (BAYRY): Free Stock Analysis Report
Gilead Sciences, Inc. (GILD): Free Stock Analysis Report
Galapagos NV (GLPG): Free Stock Analysis Report
To read this article on Zacks.com click here.
Zacks Investment Research