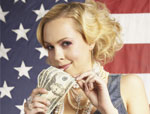 The economic events of the last 18 months have done more than wreak havoc with the financial fabric of America. They have, in many ways, created a "new normal." Not so long ago, the U.S. was perceived as the globe's high-flying, high-spending socialite.
Today, she's more likely to be thought of as a sale-shopping, coupon-clipping queen. So much has changed in such a short period of time the question is what, or who, exactly, is America today? If the U.S. were a person, what kind of person would she be?
The Congenial Country
America is a natural, outgoing leader. She's witty, social and an expert conversationalist - although some also find her a bit loud and she is known to have something of a temper. She has fairly good relationships with her family but her talk about devotion to family and community can come off as a bit overbearing to her more reserved friends. On a more positive note, however, she's widely recognized for being curious, kind and for being generally welcoming and hospitable toward others.
Land of the LargeWhen it comes to health, America's diagnosis isn't good; she is overweight and out of shape. A doctor would be concerned about her poor eating habits. She's a workaholic, doesn't exercise as often as she should and is more likely to grab fast food on the way home instead of cooking healthy meals. To make matters worse, her health insurance costs have skyrocketed over the past few years, so she's waiting longer to go to the doctor's office and stretching out her prescription drugs to save on the cost of co-payments. 
America Darling, America Despised
Once the homecoming queen among countries worldwide, in more recent years, America has lost some of her social luster. She's alienated a few new friends like China, but she is fortunate to have a few true friends who always stick by her, namely Britain. Her old foe, Russia, isn't in the picture as much these days but her detractors in the Middle East are as loud and aggressive as ever about their dislike for her. Others are calling for the two sides to find some common ground to avoid those awkward moments at social gatherings. 
The United States of ... Insolvency? America is flat broke. Without adequate savings in the bank she hasn't been able to meet the financial demands posed by a few unforeseen events – namely a war, skyrocketing healthcare expenses and real estate investments that didn't quite pan out as planned. As a person, America would likely be underinsured and at risk of becoming unemployed. If she has a job, her employer has frozen wages, reduced benefits and dropped its matching 401(k) funds. Her retirement savings have shrunk and she's adjusting to the reality that she'll have to work longer - and likely for less - than she envisioned just a few years ago.
In addition, she is struggling with a large amount of high-interest debt racked up during brighter days. She's trying to find a way to repay it and get on solid financial footing, but she has yet to come up with a plan that will please her creditors and enable her to continue living the same type of lifestyle she's become accustomed to. She knows she needs to make some major financial changes but isn't quite sure how, or where, to start. Several professional financial advisors have made their recommendations, even going so far as to draw up several debt management plan options, but spending is a habit that isn't easily broken.
Fun and GamesAmerica's always been a voracious reader but she doesn't have as much time for books these days because she is working longer hours (to keep her job) and doing more work around the house (because she can't spend the money on outside help). She recently sold a slew of books at a garage sale – namely "How to Make Money in Stocks" (1991) by William J. O'Neil and "A Beginner's Guide to Day Trading Online" (2007) by Toni Turner. If you were to peruse her nightstand, you might find "How to Win Friends and Influence People" (1936) by Dale Carnegie, "I Drink For a Reason" (2009) by David Cross and "Resurrection" (1899) by Leo Tolstoy. 
To relax, TV is still her pastime of choice. Her favorite TV show is "The Biggest Loser;" she needs to see a few other underdogs beat the odds. She recently cut back on her cable package so she's playing board games with friends more frequently. The game they play most often? "Sorry."