Following yesterday's surprising Goldman miss, traders were closely watching the results of its closest comp, Morgan Stanley this morning to determine if the Goldman FICC revenue disappointment was systemic or a one-off event. They were pleasantly surprised when MS beat on both the top and bottom line, reporting revenue of $9.75 billion and EPS of $1.00, both above consensus estimates of $9.29 billion and $0.90, although the EPS did include a discrete tax benefit of $112 million.
Profit jumped 70% to $1.93 billion in Q1 2017, from $1.13 billion last year's dismal first quarter. Revenue grew to $9.75 billion from $7.79 billion a year ago, driven mostly by a 96% surge in fixed income sales and trading revenue.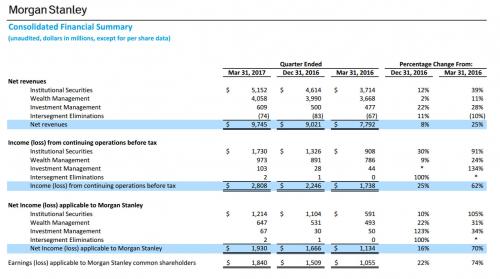 Discussing the result, CEO James Gorman said, "We reported one of our strongest quarters in recent years. All our businesses performed well in improved market conditions. We are confident in our business model and the opportunities ahead, while...
More