Does yesterday's modest - if sharp - selloff in stocks have legs? That is the question Morgan Stanley's Institutional Equity Division director Chris Metli asks in a note to clients overnight. As Metli writes, the moves have been exacerbated by the lack of protection investors have on and their rising equity exposures over the last month.
The below charts update the positioning in options and futures that QDS noted two weeks ago – in general investors have continued to get more bullish. Meanwhile, as MS Equity Strategist Mike Wilson has noted 3Q earnings are now largely in the price and with the SPX rally overextended, earnings season should be a 'sell the news' event as there is "greater risk for a correction than we've seen in a while".

So "does this move lower have legs?"
The above charts suggest that there are a good amount of recent positions put on that are offsides and need to come off, and that suggests that this may not just be a one-day move lower. As noted previously there is a lack of protection on in the 2400-2500 range so if the market can break 2500 there could be an 'air pocket' on the downside until there is ammo to actually buy the dip.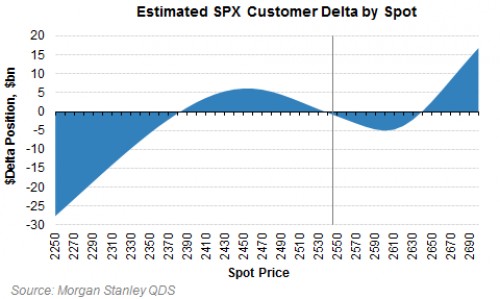 However, whether the market can move lower could come down to whether the consensus positions under the surface of the index (i.e. long / short trades) feel more pain and cause broad based de-risking.
The selloff will help clear out some of the faster money put to work recently, but the real pain would come from consensus long / short trades reversing (largely Tech vs Energy and cyclicals). As a proxy for this pain trade QDS tracks the MS Momentum baskets and the MS Passive basket (which tends to rally when active managers underperform). None of them are melting down, but their performance will be key to watch going forward.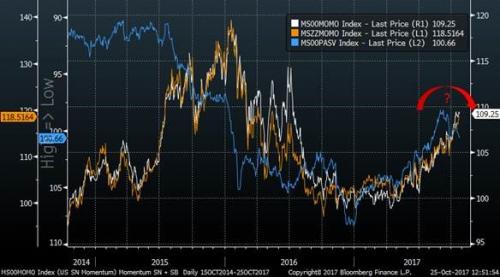 As noted two weeks ago, as the end of year approaches the risk of unwinds should increase. Investors still benefit from a positive performance 'cushion' this year and most positions are in-the-money. But nobody wants to give that alpha back and underperform peers, meaning traders could be quicker on the unwind trigger from here on out. This should contribute to moderately higher volatility levels in general, and whether it accelerates into a full on pain trade will be driven by whether there is a catalyst. With Tech and Growth stocks the biggest crowded positions, earnings over the next week will be a key test.
With risks rising into the end of the year, but fundamentals still strong and still plenty of upside to MS Equity Strategist Mike Wilson's 2700 price target, QDS suggests:
Hedging QQQ (given crowding in Tech) and IWM (given tax reform risk) with ratio put spreads given volatility is relatively elevated in both vs SPX:

Buy QQQ Dec 145/140 1x1.5 put spreads for ~$0.50c (33 bps) which have a max risk / reward of 9x while not taking downside risk unless QQQ falls more than 12% to levels last hit in April
Buy IWM Dec 145/140 1x1.5 put spreads for ~$0.45c (30 bps) which have a max risk / reward of 10x while not taking downside risk unless IWM falls more than 12% to levels last hit in Nov 2016

Rotating long beta / broad-market positions into upside SPX calls (i.e. stock replacement)

Buy SPX Jan 2625 calls for ~50 bps, 8 implied vol