This article was originally published to Motley Fool Rule Breakers on Aug. 31, 2016.
This Monday, Aug. 29, was an important day for unmanned aerial vehicles. After years of deliberation, the Federal Aviation Administration finalized and enacted its new regulations for the use of unmanned aircraft in commercial operations. In layman's terms, that means the ground rules -- er, air rules -- have been set for companies to begin using drones.
Having this legal framework in place is crucial. Companies now know what's fair game for drones to do, which opens a floodgate of opportunities. Investors have certainly taken notice as well. Goldman Sachs estimates the potential market for drones is $100 billion, while PricewaterhouseCoopers thinks it's worth more like $127 billion.
Regardless of which of these huge numbers ends up being more accurate, it's safe to assume we'll see a lot more aerial machines buzzing around. In my latest Innovation and Industries feature, we'll look at three key areas where we expect drones will have the greatest impact: hardware, data, and e-commerce. We'll also reveal a few drone-related companies that are -- quite literally -- on our radar.
Hardware: the drones themselves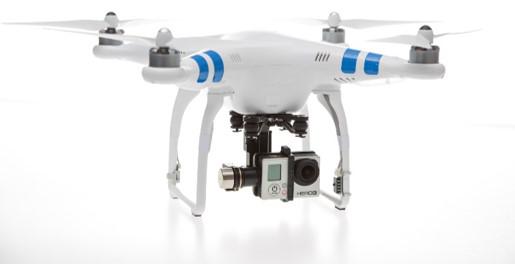 The value chain for unmanned aircraft is still developing, but the first step is the hardware providers. We'll begin by looking at companies that build the internal components, which provide the essential features of the drones themselves.
One of these important features will almost certainly be the capture of high-definition video. Ambarella (NASDAQ:AMBA) has been in this game for years -- it's made systems-on-a-chip to capture and play hi-def video in the earliest DVD codecs, in GoPro's (NASDAQ:GPRO) action sports cameras, and now in autonomous vehicles. Ambarella is making quite a scene in drones as well, with "flying cameras" representing one of its fastest-growing segments.
The ability to maintain an upright position is another key feature, which InvenSense will likely play a role in fulfilling. The company's motion sensors monitor movement, acceleration, and rotation in three dimensions. Just as we've seen augmented reality catching on with smartphones (thanks, Pokemon Go), spacial positioning will help drones make sense of where they are.
Another play could be the companies selling fully assembled drones themselves. French company Parrot and China-based DJI are already well-known global leaders, but GoPro could also be a highly motivated player. Hungry to expand beyond action-sports cameras, the company plans to release its own Karma drone in time for this year's holiday season. Keep all of these in mind for your kids' Christmas lists.
More generally, I believe we'll start to see consolidation. There is less value to a customer in having 1,000 fragmented drone suppliers than in having 100 -- which...
More