The EUR/USD was consolidating roughly between 1.1270 and 1.1350 this week. After poor US data today, the EUR/USD rallied above this range, signaling further bullish correction.

EUR/USD 1H chart 2/12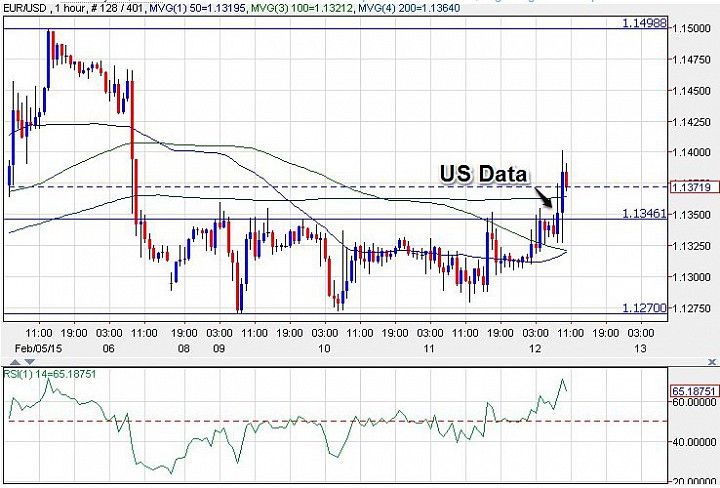 (click to enlarge)

A government report showed that retails sales fell at -0.8% in January after a -0.9% in December. The forecast called for a -0.4% reading. Core retail sales came in at -0.9%, same as in December. Forecasts called for a reading around -0.4%. Jobless claims grew to 304K last week, after a reading of 279K. Economists expected a reading around 282K.

Now, the jobless claims number should not have much impact. Labor market statistics have been showing improvements and just 1 week of slightly more jobless claims should not derail this positive trend. Retail sales however fell for a second month in a row and weak demand should cast doubt on whether the FOMC's positive economic projection will materialize and whether it will raise rates by mid-year. 

The EUR/USD did break above the range, but the bullish outlook should probably be limited to the short-term. 
EUR/USD 4H Chart 2/12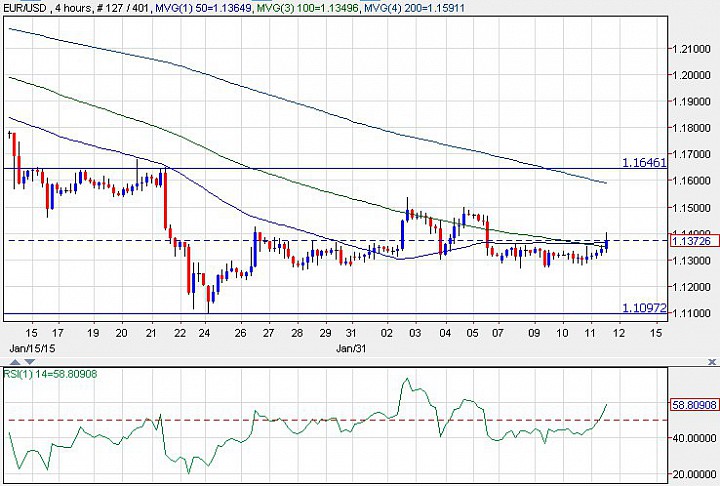 (click to enlarge)

In the 4H chart, we can see that the rally, if extended above 1.14 has at least the 1.15 level in sight. Given the mode is consolidation in the medium-term and bullish in the very short-term, the next key resistance will be in the 1.16-1.1650 area, which includes the 200-period SMA and a previous consolidation resistance area.