Whirlpool CorporationWHR posted second-quarter 2017 results, wherein both earnings and sales lagged estimates. This marked the company's fourth consecutive quarter of earnings miss. Moreover, the company slashed earnings guidance for 2017 due to amplified raw material inflation and inferior product price/mix in China and Europe.
Consequently, stock price of this world's largest home-appliances manufacturer dipped 4% in the after-hours session yesterday. Moreover, Whirlpool's shares have underperformed the Consumer Discretionary sector in the past one year. While the stock declined 1.1%, the sector witnessed growth of 16.9%.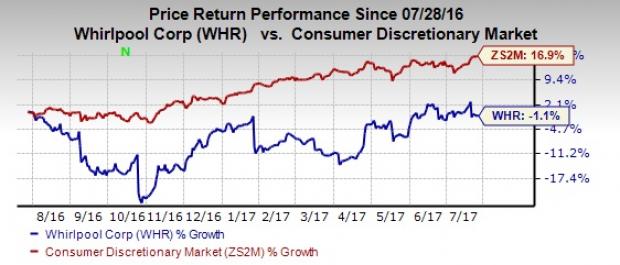 Q2 Highlights
Whirlpool's quarterly adjusted earnings per share of $3.35 declined 4.3% year over year and missed the Zacks Consensus Estimate of $3.60.
Whirlpool Corporation Price, Consensus and EPS Surprise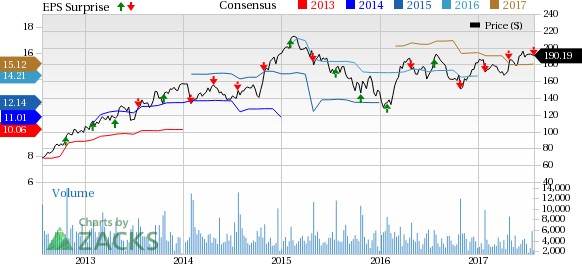 On a reported basis, the company's earnings fell 39.3% to $2.52 per share from $4.15 earned in the prior-year quarter. The decline can mainly be attributed to higher income tax expenses due to the timing of tax planning activities in the prior-year period.
Revenues came in at $5,347 million, an increase of 2.9% from the comparable year-ago quarter revenues of $5,198 million. However, revenues were short of the Zacks Consensus Estimate of $5,361.2 million. On currency-neutral basis, Whirlpool registered sales growth of over 3%. The top line benefited from strength in North America and Latin America. Further, the company remains on track for reaching long-term revenue growth targets.
Adjusted operating profit in the quarter dropped 14.6% to $373 million from $437 million in the year-ago quarter, while the operating margin contracted 150 basis points (bps) to 6.9%. During the quarter, an adverse product price/mix and raw material inflation almost fully negated the gains from increased unit volumes and ongoing cost productivity. However, the company reported sequential operating margin improvement in the EMEA region.
Regional Performance
Revenues from North America went up 7.1% year over year to $3 billion, while revenues grew 9% on a currency-neutral basis. Adjusted operating profit margin contracted 50 bps to 11.8%, while in dollar terms operating profit grew 4.1% to $354 million. Operating profit gains reflected from strong unit volume growth in core and adjacent businesses. However, the negative impact of raw material price inflation and foreign currency hurt operating margins. The company retained North-American...
More