GBP/AUD is surging. A week ago, the pair looked like a good candidate to short into rallies, but this current rally looks too sharp and should be respected. 

GBP/AUD 4H Chart 4/25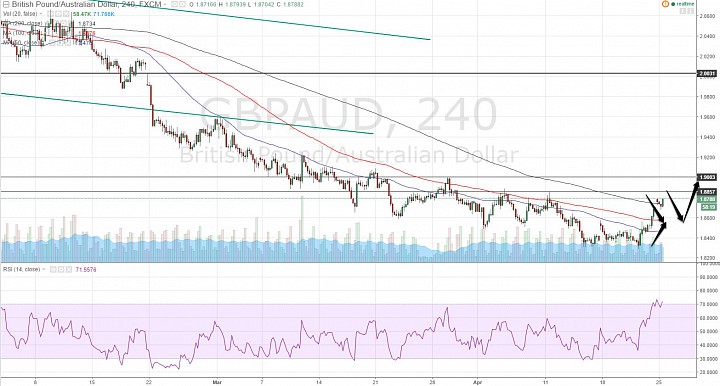 (click to enlarge)

Buying: We can see that there was a double bottom, completed by a sharp upswing from a low around 1.83 to almost 1.88. This rally crossed the 200-, 100-, and 50-period simple moving averages (SMAs) in the 4H chart and pushed the 4H RSI above 70. These are signs that bulls are taking over. At this point, I would say that the 1.83-1.84 has been well defended, and if price does pull back into this area, we can consider a buy with a stop below 1.83. 

Targets from the 1.83-1.84 area should be 1.8580, and then, 1.87. This is a set of conservative targets, in case the medium-term bearish mode comes back. 

Selling: With GBP/AUD at least shifting from bearish to sideways market, the question is where will resistance be. Since the prevailing trend was bearish, we also have to respect this medium-term mode. The 1.8850-1.89 area represents a support/resistance pivot area. If we see price action stall, and bearish candles start to dominate smaller bullish candles, we should consider a possible sell with a stop above 1.89. A bearish divergence between price and the RSI would be helpful as a confidence booster for the sell-side. 

The sell target if price retreated below 1.8850 would be the 1.86, and 1.85 area. This target respects the current rally and considers the possibility that there will be support in this area for a bullish reversal attempt towards 1.90. If price accelerates downwards, we could consider manually moving the targets lower. But as I mentioned before, we should respect this current rally even if we do respect the prevailing bearish mode as well. 

Aggressive Buy Entry: If you look at the current rally as a strong bullish signal, and not just a consolidation signal, you would have a more aggressive buy entry than the 1.83-1.84 area. If GBP/AUD is indeed in bullish reversal mode, we should consider entry around 1.8550-1.86, with a stop below 1.8450. 1.8850 and 1.90 would be the targets for this bullish outlook.