Nvidia (NVDA) is announcing earnings this week. The chip maker has created a profitable niche for itself in artificial intelligence technology. Guidance is extremely optimistic. 
Analysts expect an EPS of 37 in Q2, up more than 7x from the 5 cents per share the company earned last year. Revenue is expected to go up 17.3% to $1.35 billion.
The Stocks Performance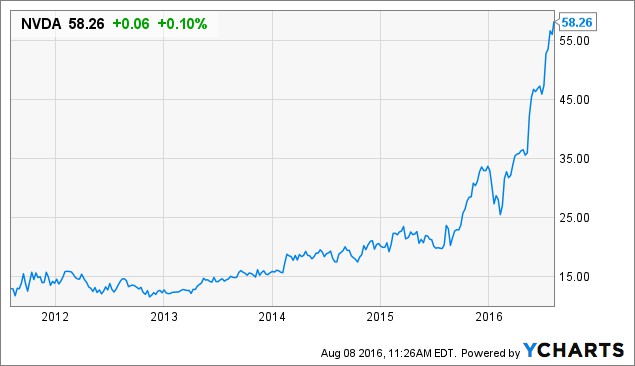 ---
 Nvidia was the 5th best performer in the entire Standard & Poor's 500 index this month, with the stock up over 70% for the year. This is an exponential growth stock, and I think it has further to go. According to the company's CEO;
"NVIDIA is at the center of four exciting growth opportunities – PC gaming, VR, deep learning and self-driving cars," Huang said. "We are especially excited about deep learning, a breakthrough in artificial intelligence algorithms that takes advantage of our GPU's ability to process data simultaneously."
Personally, I see the greatest opportunity in self-driving cars and drones which will become a huge part of the economy in the years to come. 
Conclusion
I will increase by NDVA position before earnings.