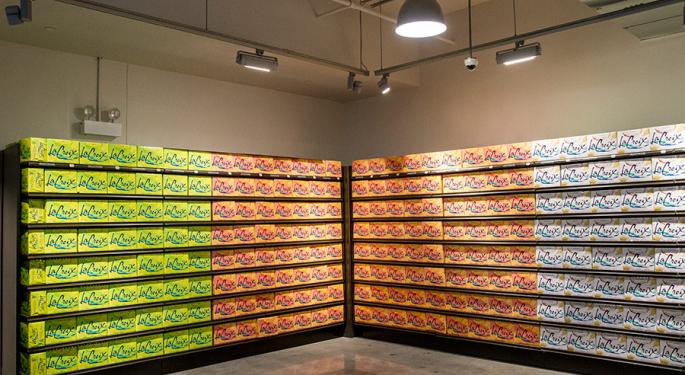 National Beverage Corp. FIZZ is up big after historic Q1 results. The company is capitalizing on a shift in American consumers tastes, opting for more healthy alternatives, especially when it comes to drinks.
Revenues were up 17 percent, primarily driven by its hit product, La Croix, a sparkling water that has been gaining popularity and getting increased exposure. Sales volumes of flavored carbonated waters has risen 10 percent in the last year, with La Croix leading the charge. National Beverage Corp saw operating income increase 69 percent in Q1.
Sales of La Croix have doubled in the last two years to $225 million. Naturally, National Beverage stock has more than doubled in the last year.
La Croix is also a hit at tech offices around the country. At Yelp's Chicago office, La Croix far outnumbers any other free drink offered to their 700 employees. Last month, the marketing team at food delivery service Grubhub put on a LaCroix Luau for employees. Ryan O'Donnell, a software developer at Braintree, said, "I never heard of LaCroix until I started at Braintree."
National Beverage says additional capacity and expanding distribution are "intensifying" future revenues.
Shares traded recently at $50.18, up 6.7 percent.
Disclosure: image sourced from bkmag.com
© 2016 Benzinga.com. Benzinga does not provide investment advice. All rights reserved.