Earlier today, Uber announced that a Self-Driving Fleet Arrives in Pittsburgh This Month.
A quick check of my calendar shows this is August of 2016. Is my calendar wrong? Well, not to worry. I put on my naysayer hat and discovered the "facts".
This will never work because Uber did not address snow, fog, heavy rain, dust, pigeons, propane fireballs, or 80-Year-Olds on Roller Skates suddenly veering into traffic. Besides, the car doesn't have the morals it needs.
Also note the ride will be supervised by humans in the driver's seat for the "time being." Of course, naysayers suggest the words "for the time being" mean forever.
Proven Facts vs. Facts of the Matter
For icing on the "this will never work" cake, one reader continually points out "NONE of the manufacturers have any idea how to drive in the snow. In fact, few if any have attempted it. It's a proven fact".
Facts of the Matter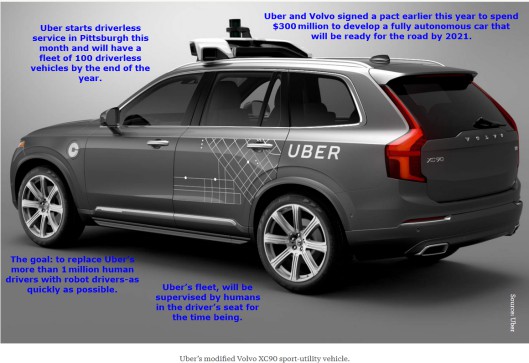 Near the end of 2014, Uber co-founder and Chief Executive Officer Travis Kalanick flew to Pittsburgh on a mission: to hire dozens of the world's experts in autonomous vehicles.

"Travis had an idea that he wanted to do self-driving," says John Bares, who had run CMU's National Robotics Engineering Center for 13 years before founding Carnegie Robotics, a Pittsburgh-based company that makes components for self-driving industrial robots used in mining, farming, and the military. "I turned him down three times. But the case was pretty compelling." Bares joined Uber in January 2015 and by early 2016 had recruited hundreds of engineers, robotics experts, and even a few car mechanics to join the venture. The goal: to replace Uber's more than 1 million human drivers with robot drivers—as quickly as possible.

And according to most analysts, true self-driving cars are years or decades away. Kalanick begs to differ. "We are going commercial," he says in an interview with Bloomberg Businessweek.

Starting later this month, Uber will allow customers in downtown Pittsburgh to summon self-driving cars from their phones, crossing an important milestone that no automotive or technology company has yet achieved. Google, widely regarded as the leader in the field, has been testing its fleet for several years, and Tesla Motors offers Autopilot, essentially a souped-up cruise control that drives the car on the highway. Earlier this week, Ford announced plans for an autonomous ride-sharing service. But none of these companies has yet brought a self-driving car-sharing service to market.

Uber's Pittsburgh fleet, which will be supervised by humans in the driver's seat for the time being, consists of specially modified Volvo XC90 sport-utility vehicles outfitted with dozens of sensors that use cameras, lasers, radar, and GPS receivers. Volvo Cars has so far delivered a handful of vehicles out of a total of 100 due by the end of the year. The two companies signed a pact earlier this year to spend $300 million to develop a fully autonomous car that will be ready for the road by 2021.

The Volvo deal isn't exclusive; Uber plans to partner with other automakers as it races to recruit more engineers. In July the company reached an agreement to buy Otto, a 91-employee driverless truck startup that was founded earlier this year and includes engineers from a number of high-profile tech companies attempting to bring driverless cars to market, including Google, Apple, and Tesla. Uber declined to disclose the terms of the arrangement, but a person familiar with the deal says that if targets are met, it would be worth 1 percent of Uber's most recent valuation. That would imply a price of about $680 million. Otto's current employees will also collectively receive 20 percent of any profits Uber earns from building an autonomous trucking business.

Otto has developed a kit that allows big-rig trucks to steer themselves on highways, in theory freeing up the driver to nap in the back of the cabin. The system is being tested on highways around San Francisco. Aspects of the technology will be incorporated into Uber's robot livery cabs and will be used to start an Uber-like service for long-haul trucking in the U.S., building on the intracity delivery services, like Uber Eats, that the company already offers.

Levandowski, one of the original engineers on the self-driving team at Google, started Otto with Lior Ron, who served as the head of product for Google Maps for five years; Claire Delaunay, a Google robotics lead; and Don Burnette, another veteran Google engineer. Google suffered another departure earlier this month when Urmson announced that he, too, was leaving.

The Otto deal is a coup for Uber in its simmering battle with Google, which has been plotting its own ride-sharing service using self-driving cars. Otto's founders were key members of Google's operation who decamped in January, because, according to Otto co-founder Anthony Levandowski, "We were really excited about building something that could be launched early."
Disclaimer: The content on Mish's Global Economic Trend Analysis site is provided as general information only and should not be taken as investment advice. All site content, including advertisements, shall not be construed as a recommendation to buy or sell any...
More