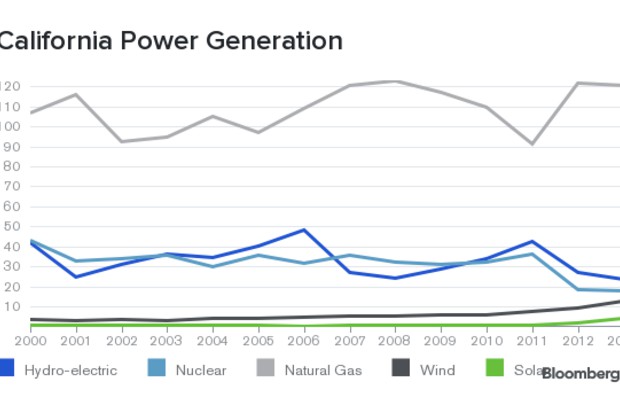 Annual Electricity Output by Source
At a windy mountain pass on the edge of the Mojave Desert,North America's most potent collection of batteries used for storing unused power is humming its way toward an electricity revolution.
Southern California Edison, a utility that serves about 14 million people, has amassed more than 600,000 lithium-ion battery cells -- enough to power 2,000 Chevrolet Volts -- at a substation in Tehachapi, California. The $54 million, two-year test project aims to collect power generated from the area's 5,000 wind turbinesand store it for future use.
Cost-effective storage for wind and solar energy is the industry's "Holy Grail," Morgan Stanley says. That's because times of high output during sunny days or windy nights don't always match up with peak demand. While batteries are currently too expensive for large-scale use, improving technology is cutting costs, which means storage systems could replace some plants and avoid the need for new ones, as well as cut demand for oil, according to UBS AG and Citigroup Inc.
"We're at the infancy of this," Ron Nichols, the senior vice president of regulatory affairs for Rosemead, California-based SCE, said in a telephone interview Oct. 1. "The technology is important. I don't know if it's a game-changer yet, but it has the potential to be, particularly if it gets implemented more deeply and the costs come down."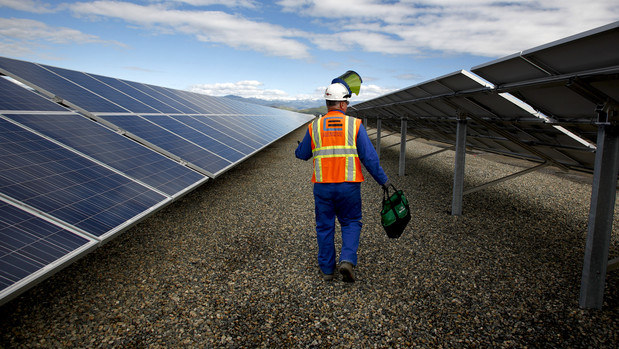 In the next seven or eight years, the price of batteries used for storage may fall by about half, to $230 a kilowatt hour of generating capacity, said Sofia Savvantidou, an analyst at Citigroup in London. Policy makers are setting more targets for renewable energy and demand is increasing from companies including electric-car maker Tesla Motors Inc. (TSLA), she said.