Australia and India signed an agreement for civil nuclear cooperation, opening the door for uranium sales to the South Asian nation as it battles power shortages.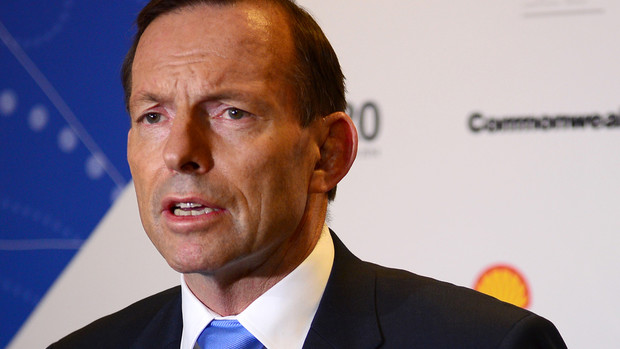 Photographer: Jeremy Piper/Bloomberg
Tony Abbott, Australia's Prime Minister.
"We signed a nuclear cooperation agreement because Australia trusts India to do the right thing in this area," Prime Minister Tony Abbott said at a signing ceremony in New Delhi late yesterday. "We are happy to trust India with uranium. I am also deeply conscious of India's potential as the world's emerging democratic super-power."
Exporting uranium to India, which is seeking to curb power shortfalls crippling the economy, will help Australian miners such as BHP Billiton Ltd. (BHP) and Rio Tinto Group-controlled Energy Resources of Australia Ltd. The deal comes as uranium is poised to enter a bull market amid tightening supply as producers shut mines and delay projects, more than three years after the Fukushima nuclear disaster in Japan sent prices lower.
Both India and Australia are seen by President Barack Obama as important supporters of the U.S. pivot into the Asia-Pacific, designed to counter China's growing influence and territorial claims in the region. India and Australia said yesterday they will increase their defense cooperation and plan to hold their first bilateral naval exercises in 2015.
India's government plans to spend about $175 billion over the next two decades to alleviate power shortfalls. Power cuts are hurting industrial production amid an average 5 percent shortfall in peak power supply, according to the Central Electricity Authority.
Energy Starvation
When India suffered from a 10 percent peak power deficit, as recently as 2012, it cost 1.2 percent of the country's annual gross domestic product, according to the Planning Commission.
"This agreement will allow India to consider expansion and growth of its nuclear reactors," said Rahul Tongia, a non-resident fellow at the Brookings Institute in the southern city of Bengaluru, formerly known as Bangalore. "Nuclear energy accounts for a small fraction of India's supply, but it can serve as a stable base for ending India's energy starvation."
Australia, the world's third-biggest uranium exporter behind Kazakhstan and Canada, in December 2011 overturned a ban on uranium exports to India initiated because the nation wasn't a signatory to the Nuclear Non-Proliferation Treaty. While Australia has the world's largest known resources, with 31 percent, it has three operating mines.
Upgraded Relations
India has signed civil nuclear agreements with countries including the U.S., France and Russia after a three-decade ban on uranium supplies was lifted in September 2008 by the Nuclear Suppliers Group, which is charged with reducing proliferation by controlling the transfer of materials used to develop an atomic weapon.
Australia and India upgraded official relations in 2009 to a "strategic partnership," and agreed to hold annual meetings between their prime ministers. Two-way trade reached $13.6 billion last year, mainly due to India's appetite for Australia's coal, gold and copper.
The price of uranium for immediate delivery soared to a record $136 a pound in 2007. Prices closed at $32.65 on Sept. 2 and have averaged $31.80 in 2014, according to data from Ux Consulting Co. in Roswell, Georgia, which provides research on the nuclear industry.
Uranium Supplies
The meltdown at Tokyo Electric Power Co.'s Fukushima Dai-Ichi plant in March 2011 led to the closing of Japan's nuclear reactors, reducing demand. Japan is seeking to restart reactors as it conducts safety checks, while producers from Kazakhstan to Australia cancel projects and close mines.
The reduction in spot supplies has led to increasingly competitive offers and bids in the market place, driving prices higher, Joel Crane, an analyst at Morgan Stanley in Melbourne, wrote in an Aug. 28 note. While there are signs of restarts in Japan, there is probably a high level of inventory still held by utilities that may weigh on market sentiment, he said.
The pact is the first step in India becoming member to the coveted dual-use nuclear technology sharing groups -- including the Nuclear Suppliers Group and Wassenaar Arrangement -- with the U.S., Australia and China, among others. The pact may also open the door for India to finalize deals with other uranium suppliers, including France and the U.K., said Neelam Deo, director at Gateway House, a Mumbai-based think tank.
Sophisticated Technologies
"When you get access to these groups, you get access to the most sophisticated nuclear technologies in the world," Deo said in a phone interview on Sept. 3. "China has been the biggest opponent to India's entry, but by finding other partners, India's chances of getting access improve."
India aims to add about 30 reactors to boost its nuclear power generation capacity to 63,000 MW by 2032, according to its power ministry. Half of its 20 reactors rely on domestic uranium, which is in short supply, forcing the Nuclear Power Corp. of India Ltd. to operate the plants below capacity. The other 10 reactors using imported uranium are operating at maximum capacity.
India imported 646 tons of uranium in fiscal 2012, including 350 tons from Kazakhstan and 296 tons from Russia, according to former prime minister Manmohan Singh's office.