Today we had 3 key jobs data points from the UK:
Average Earnings Index (Q/Y) April-June quarter: -0.2%
Forecast: -0.1%, Previous (Jan-Mar. quarter): 0.4%

The Q/Y means this data is compiled with 3 months of statistics compared to the same 3 months in the previous year. In this case, it was the Q2 2014 (April-June) compared to Q2 2013. 
Claimant Count Change (July): -33.6K
Forecast: -29.7K, June: -39.5K (revised up from 36.3K)
Unemployment Rate (June): 6.4%
Forecast: 6.4%, May: 6.5%
The most time relevant data point would be the claimant count change, which beat expectations, showing a consistent decline in those claiming unemployment benefits. The unemployment rate edged lower as expected, though it is data for June - not as timely. 

Wage Contraction: However, the data with most monetary policy implication has to do with wage growth, or lack thereof.
The average earnings index was from June as well, and maybe not as timely, but it affirms a trend of declining wage growth to even wage contraction compared to last year. This is the issue deterring the BoE from raising rates in 2014, which translates to pressure on the pound.

The GBP/USD fell sharply after the release: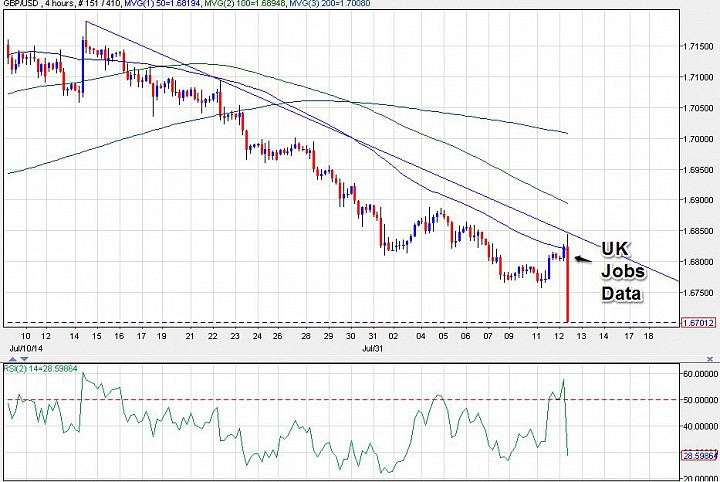 GBP/USD 4H Chart
Cable price is now hovering above the May-June lows around 1.67. Also note the 200-day SMA around 1.6650. While there has not been a significant consolidation since GBP/USD fell from 1.7191 (high on the year), the 1.6650-1.67 area should provide a nice support zone for GBP/USD to consolidate above, especially with the daily RSI dipping in oversold territory several times already.