With rumors of Alibaba's IPO filing happening as early as this week, now is a good time to analyze what this IPO could mean to the markets.  Earlier this year Alibaba announced on its company blog that it would forgo listing on the Hong Kong Stock Exchange and opt to launch an initial public offering on a U.S. exchange, with the NYSE being the rumored front runner.  Speculation about the Alibaba IPO puts the company's valuation north of $150 billion, which would make it one of the biggest IPOs of all time.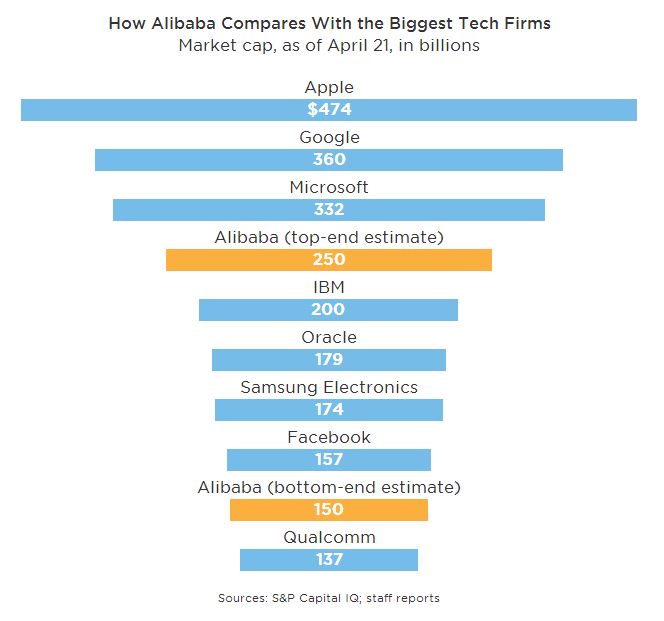 Chart via WSJ
Alibaba is, by some measures, the biggest e-commerce company in the world.  Alibaba is mostly made up of three domains Alibaba, Taobao and Tmall.com, which have hundreds of millions of users and millions of merchants.  They handle more business than any other e-commerce company.   Alibaba makes up 80% of China's online shopping market.  Transactions on its online sites totaled $240 billion last year, more than those of eBay and Amazon combined.  
The company was founded by Jack Ma in 1999 with the web site Alibaba.com, a business-to-business portal to connect Chinese manufacturers with overseas buyers.  Its consumer-to-consumer portal Taobao was founded in 2003 after eBay acquired Eachnet, China's online auction leader at the time.  Taobao offered free listings to sellers and user friendly buyer-seller communication and payment tools.  This resulted in Taobao becoming the market leader in two years' time.  In 2008 Taobao spun off Tmall a business-to-consumer online retail platform for local Chinese and international businesses to sell brand name goods.  
Even though Jack Ma stepped down as CEO in May 2013, he will have a lot of control over Alibaba, even after it lists.  According to the Wall Street Journal, the company's corporate structure will let Mr. Ma and other top brass nominate more than half of Alibaba's board members.  Alibaba chose to list in the U.S. because the Hong Kong exchange refused to accept the structure.
Ahead of the IPO, many investors have put their money into Alibaba's two biggest owners Yahoo (YHOO) and Softbank (SFTBF).  Both companies have already seen significant appreciation of their shares in the past year, YHOO is up almost 70% and Softbank 65%.  Yahoo shares jumped a couple weeks ago after the company announced Alibaba's year over year revenue growth accelerated to 66% in their fourth quarter from 51% in the third quarter, and that its net income grew 110%.  If Alibaba's market cap after the IPO is $150 billion, then Yahoo's stake is close to $36 billion, almost the same as their own current market cap.  Softbank's stake would be worth more than $55 billion and their current market cap is around $99 billion.
One reason the IPO is taking time is because Alibaba is strengthening its patient portfolio in the U.S.  This helps protect themselves from being exposed to legal claims that their products infringe on other companies intellectual property.  Alibaba has so far obtained 102 U.S. patents, including 20 purchased from IBM last year, according to researcher Envision IP.  According to the U.S. Patent and Trademark Office's database, Alibaba has applications on more than 300 others for technology like payment processing, product recommendations and picture searches. 
Another potential issue is whether Alipay is part of the IPO deal.  Alibaba's financial services app, Alipay, enables you to not only pay for products on their various sites but also enables users to buy theater tickets and pay for taxis.  Users can also use Alipay to invest in a money-market fund, called Yu'e Bao, which has already collected $87 billion in assets.  According to Morningstar, that makes it one of the biggest money market funds in the world.  Right now analysts have priced in that Alipay sits outside of Alibaba Group.  Alipay could be worth north of $20 billion by itself.
While the filing could happen as early as this afternoon, that doesn't mean that it will start trading any time soon.  In fact, many don't expect it to start trading any earlier than August and possibly not until after Labor Day.  We'll keep you updated as the IPO story develops.