Last week, American Airlines Group (NASDAQ:AAL) reported that its revenue per available seat mile (RASM) declined 2.2% year over year in the third quarter. Ideally, investors would like to see RASM growing at airlines, but this was still a much better result than either Delta Air Lines (NYSE:DAL) or United Continental Holdings (NYSE:UAL) could muster.
This improving unit-revenue trajectory has helped American Airlines stock pull out of a steep dive that sent it as low as $25 in late June. Indeed, the share price has rebounded by a stunning 60% in the past four months: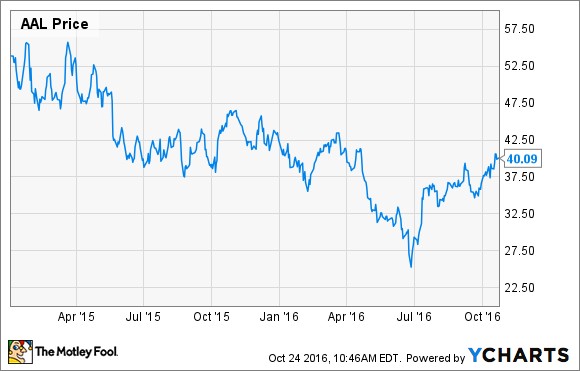 However, skyrocketing costs are a big problem. As a result, American's profitability has plunged far below that of Delta, and it now rivals United Continental for the ignominious title of least-profitable major airline. Unfortunately, the company's management isn't acting aggressively enough to get profit growing again.
Profitability falls behind rivals
In 2015, American Airlines had the highest profit margin among the three legacy carriers. A big driver of American's outperformance was its savvy decision not to hedge its fuel costs. This allowed it to pay less for jet fuel than Delta and United last year.
That fuel-cost advantage has shrunk in 2016, as hedging losses have declined for American's peers. Meanwhile, non-fuel unit costs have been rising at an elevated rate at American Airlines, due to the impact of new labor contracts that incorporated sizable pay raises.
As a result, American Airlines' profit margin has begun to contract. Last quarter, the company posted an adjusted pretax margin of 14%, down from 17.7% a year earlier. By contrast, Delta's adjusted pretax margin was 18.2%, despite the impact of its August technology outage. Most notably, perennial laggard United Continental outpaced American Airlines with a 15.2% adjusted pretax margin.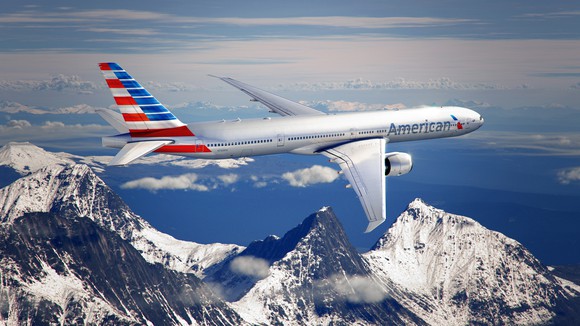 More