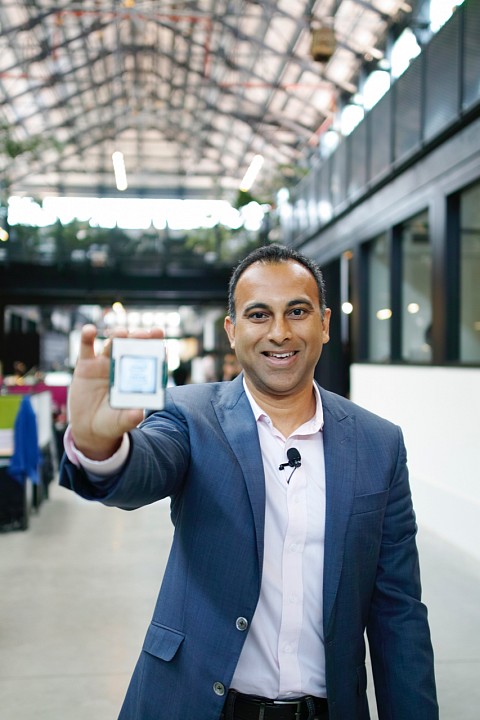 As mentioned earlier, Intel (INTC) today held an event in the Brooklyn Navy Yard, hosted by the head of its data center group, Naveen Shenoy, to unveil the company's latest version of its "Xeon" server chip line, "Purley," formally branded "Xeon Scalable."
The talk came with a raft of customer presentations, both on stage and in video testimonials, including one by Bart Sano, who runs platforms for the cloud computing service of Aphabet's (GOOGL) Google division. He spoke to the value of the Scalable chips in speeding up a variety of workloads, bringing performance improvements of 40% to more than 100%. One example was a genomics firm called Seven Bridges that saw a 1.8 times improvement running on the Xeons in Google's cloud.
There were also testimonials from Amazon's (AMZN) AWS cloud operations, from Thomson Reuters for financial applications, and from Monte Fiore hospital in The Bronx, which is using the increased performance for things such as determining which patients in the intensive care unit may be at risk of falling into a more-critical condition.
After the formal talk, Shenoy was kind enough to sit down with me for a bit to discuss how he sees the business.
Shenoy took over the division from Diane Bryant just 45 days ago.
"First and foremost it reflects our continued commitment to innovate and to respond to what data center customers desire," said Shenoy.
"We have really gone deep with customers to understand their workloads," he said, with the result that the new Xeons are "designed from ground up for where workloads are headed." Shenoy emphasized that the company has "never had this many end customers participate with us this early on," referring to the fact that Intel rolled out the processor earlier than normal to key customers such as Google. It now has over 500,000 units shipping to over 30 customers.
"This is our biggest advancement in a decade" performance-wise, and "should lead to a nice business result for us," he said.
I asked about Advanced Micro Devices (
More