Investment idea - CVS Health

14 january 2015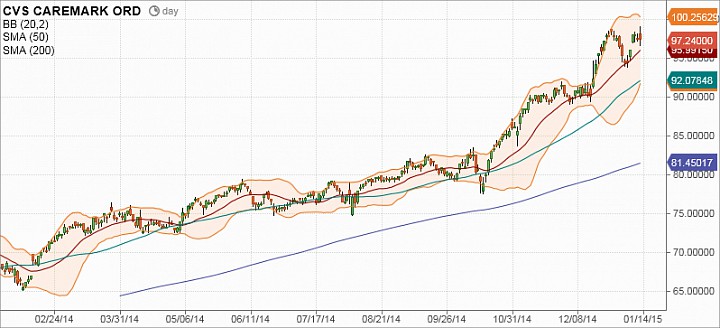 CVS Health (CVS), one of the largest integrated pharmaceutical companies in the US, recently held an investor meeting, at which it outlined the following growth drivers:
- The company continues to deliver double-digit growth. According the financial report for Q3 2014, revenue increased by 9.7% y-o-y, and adjusted EPS rose 9.5% y-o-y.
- According to the updated guidance, the company will continue to improve its performance. Revenue will increase by 7.0-8.3% y-o-y, adjusted EPS will reach USD 5.05-5.19 (up 16% compared to last year's expectations). The company plans to generate a free cash flow of USD 5.9-6.2 bn in 2015, and part of this amount may be allocated for M&A deals.
- CVS announced a new buyback program worth USD 10 bn. Taking into account USD 2.7 bn, left from the previous buyback program, the company may spend USD 12.7% for this purpose in the coming years. CVS plans to spend USD 6 bn for buyback in 2015. The management of CVS decided to raise quarterly dividend by 27% to USD 0.35 per share, implying a 1.5% dividend yield. The company confirmed plans to increase the dividend payout ratio to 35% by 2018.
We are upbeat about the future prospects of CVS. Given CVS' strong integrated business model, which has no competitors, we believe that the company could benefit from the trend of rapid growth in the number of Americans enrolled in various health insurance programs, as well as from rising health care costs of US citizens.
We raised the target price of CVS shares to USD 110 and reiterate a Buy recommendation in the mid-term. The short-term technical target is USD 100.
Voting is over
Waiting for


the right answer