US Factory Orders came in contracting at a rate of -0.5% in May. the previous reading was 0.8% and economists had forecast a reading of around -0.4% for May.  The main component to the downside was a drop in orders for military equipment. Taking this out, new orders actually rose 0.2%.
The contraction adds to concerns that Q2 growth will be unimpressive. After a dramatic downward revision of Q1 GDP to -2.9% on the year, a tepid Q2 recovery will hamper the Feds ability to raise rates. We are then likely to push rate hike expectations towards the tail of 2015, and maybe 2016. For now, markets expect a rate hike around the middle of 2015. 
Meanwhile, the USDX is stalling just under 80. The rally a couple of hours earlier was on the back of positive ADP jobs data. The market is likely squaring up ahead of the Non-Farm Payroll data tomorrow. Let's see if the price bottom established this week above 79.75 will hold after the release. This would give the USD a bullish outlook for the next week.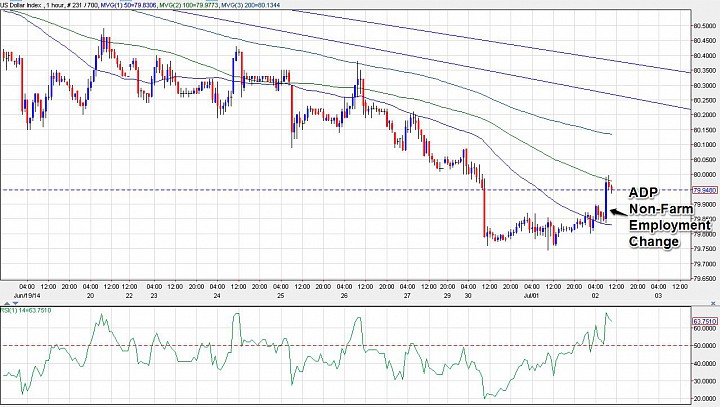 (usdx 1h chart, 7/2)