The Greek stock market is up 12 days in a row - the longest streak since 1999 - with its 25% gains amon the world's best in 2017 following the bailout decision.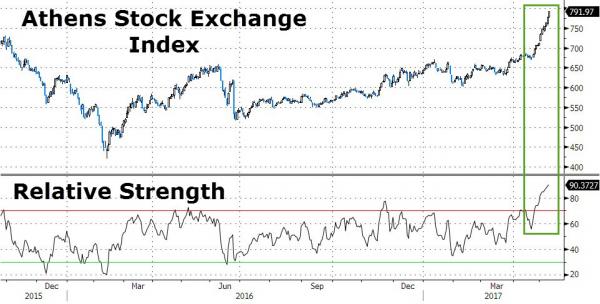 The last time Greek stocks were this overbought was September 1999 - which was followed by a 77% decline...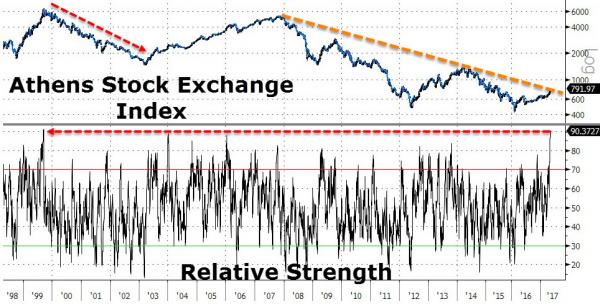 Furthermore, Greek bond yields have collapsed to post-crisis lows in the last weeks as everyone and their pet rabbit is sure the bailout is a done deal..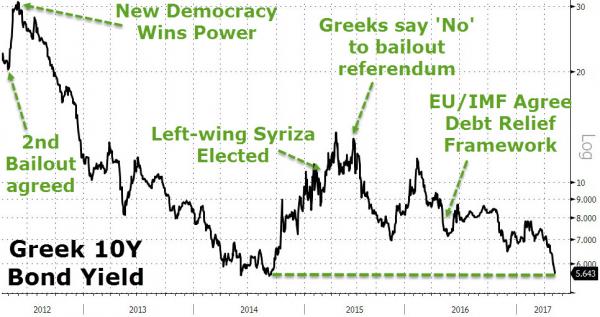 There's just one thing... Greece's highest court just decided that the pension cuts demanded by the creditors to secure the bailout are unconstitutional! As KeepTalkingGreece reports,
The Plenary of the State Audit Council has ruled that the cuts to main and supplementary pensions to be implemented in 2019 are against the Constitution and contravene the European Convention of Human Rights. Pension cuts are creditors' top favorite austerity measure.

 

The pension cuts the government and its creditors have agreed on in the Supplementary Memorandum of Understanding on May 2 2017 will affect more than one million Greek pensioners who will see further cuts up to 18% in their main and the supplementary pensions respectively. The pensioners will suffer losses from 45 to 350 euros per month.The total annual loss could reach 3,000 euros, that is a loss of up to 2.5 to 3 monthly pensions per year.

 

Exempted from the cuts are neither low-pensions nor widow or invalidity pensions.

 

It will be the fourth or fifth cut in pensions since 2010 when the International Monetary Fund arrived in the country together with the first bailout.

 

The State Audit Council council also decided that the fiscal bill containing the pension cuts contravenes the Greek legislation as it has been tabled to the audit council without a relevant actuarial study.

 

Government sources told media that the decision of the State Audit Council is not binding and they refereed to a decision that the Council of State should take on the issue.
The Supplementary Memorandum of Understanding, a mixture of outstanding prior actions the government signed in the third bailout of 2015 and additional austerity measures for 2019-2020 is due to be voted in the Parliament on May 18.