Mylan N.V. MYL is scheduled to report third-quarter 2017 results on Nov 6, before the market opens.
The company's performance has been mixed so far, having topped earnings estimates in two of the trailing four quarters and in missing in other two. The company delivered an average negative earnings surprise of 0.59% in the trailing four quarters.
Last quarter, the company missed earnings estimates by 6.78%. Let's see how things are shaping up for this announcement.

Mylan's stock has increased 0.3% year-to-date compared with the industry's decline of 27.8%. The stock got a boost with the approval of generic Copaxone 40mg.
Why a Likely Positive Surprise?
Our proven model shows that Mylan is likely to beat estimates this quarter because it has the right combination of two key ingredients.
Zacks ESP: The http://www.zacks.com/earnings/earnings-surprise-predictions/">Earnings ESP, which represents the difference between the Most Accurate estimate and the Zacks Consensus Estimate, is +3.92%. This is because the Most Accurate estimate is pegged at $1.25 while the Zacks Consensus Estimate is pegged at $1.21. A positive ESP serves as a meaningful and leading indicator of a likely positive earnings surprise. You can uncover the best stocks to buy or sell before they're reported with our Earnings ESP Filter.
Zacks Rank: Mylan currently carries a Zacks Rank #2 (Buy). Note that stocks with a Zacks Rank #1 (Strong Buy), 2 or 3 (Hold) have a significantly higher chance of beating earnings estimates. The combination of Zacks Rank #3 and a positive ESP makes us confident of an earnings beat.
Conversely, Sell-rated stocks (#4 or 5) should never be considered going into an earnings announcement especially when the company is seeing negative estimate revisions.
Factors to Consider This Quarter
Concurrent with the second-quarter results, Mylan lowered its revenue guidance. The company now expects revenues of $11.5-$12.5 billion in 2017, down from the earlier projection of $12.25-$13.75 billion. The company now projects earnings in the range of $4.30-$4.70, down from the previous projected range of $5.15–$5.55. The guidance was lowered as a result of expected delays in the timing of certain new key product launches. Ongoing challenges in the United States and uncertain regulatory environment has led the company to defer all major launches in the United States from 2017 to 2018 including generic Advair and generic Copaxone. Pricing in generics is expected to decline in mid-single digits globally, with high-single-digit erosion expected in North America.
Nevertheless, newly launched products are likely to perform well and aid the top line, while the acquisitions of Meda and the Renaissance Topicals Business should continue to boost the top line in the generics segment.
In a major boost, Mylan received FDA approval for a generic version of multiple sclerosis (MS) drug Copaxone 40mg. This is the first generic of Copaxone that has been approved. The company being one of the first filers, will also enjoy 180 days of exclusivity. According to QuintilesIMS, sales of Copaxone 20mg/mL dose was approximately $700 million and for the 40 mg/mL dose was $3.64 billion for the 12 months period ending July 31, 2017.
However, Mylan's Specialty segment, of which EpiPen is the most significant product, continues to be weak. Sales of EpiPen Auto-Injector are anticipated to continue to decline in the current quarter as a result of increased competition and the impact of the authorized generic launch. Meanwhile, the company's efforts to get Advair's generic approved suffered a blow when the FDA issued a complete response letter to its ANDA for generic Advair Diskus. The FDA Oncologic Drugs Advisory Committee recently unanimously recommended approval of its biosimilar version of Roche Holdings RHHBY Herceptin. However, the anticipated FDA goal date set under the Biosimilar User Fee Act has been deferred to December from September 2017.
During the earnings call, we expect investors to focus on the performance of EpiPen, newly launched drugs and progress with the biosimilars pipeline.
Mylan N.V. Price and EPS Surprise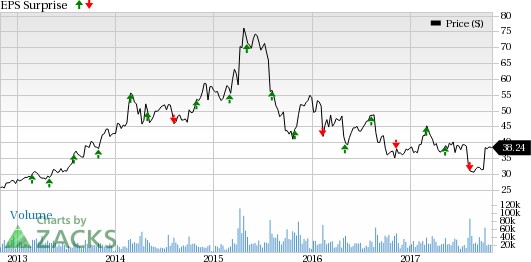 Stocks to Consider
Here are some health care stocks that you may want to consider, as our model shows that they have the right combination of elements to post an earnings beat this quarter.
Agenus Inc. AGEN has an Earnings ESP of +8.11% and a Zacks Rank #2. The company is scheduled to release third-quarter results on Nov 7. You can see the complete list of today's Zacks #1 Rank stocks here.
ACADIA Pharmaceuticals Inc. ACAD has an Earnings ESP of +3.2% and currently carries a Zacks Rank #3. The company is expected to release third-quarter results on Nov 6.
Wall Street's Next Amazon
Zacks EVP Kevin Matras believes this familiar stock has only just begun its climb to become one of the greatest investments of all time. It's a once-in-a-generation opportunity to invest in pure genius. Click for details >>





Want the latest recommendations from Zacks Investment Research? Today, you can download 7 Best Stocks for the Next 30 Days.
Click to get this free report
Roche Holding AG (RHHBY): Free Stock Analysis Report
Agenus Inc. (AGEN): Free Stock Analysis Report
ACADIA Pharmaceuticals Inc. (ACAD): Free Stock Analysis Report
Mylan N.V. (MYL): Free Stock Analysis Report
To read this article on Zacks.com click here.