PotashCorp released 2Q15 results that missed analyst expectations.
Falling nitrogen prices and weak phosphate sales volumes hurt Potash Corp. in the second quarter.
However, Potash Corp.'s press statement highlighted that the company is not going to give up on its pursuit of K+S.
Potash Corp. should give binding job and production guarantees, raise its bid to 50 euro per K+S share, and make a formal offer.
Potash Corporation of Saskatchewan, Inc. (NYSE:POT) still has its sights firmly set on K+S. The Canadian potash company released second quarter results last week, but PotashCorp did not just simply release financials; it also let investors know once more that the company is not going to give up easily when it comes to taking over K+S (OTCQX:KPLUY). The German potash and salt company rejected a friendly takeover proposal at the beginning of last month.
PotashCorp's Chief Executive Officer Jochen Tilk met with politicians in Germany last month and lobbied for a takeover of K+S. PotashCorp's advances have been rebuffed by both K+S and German politicians who like to see K+S remain independent. Nonetheless, the Canadian company is not giving up -- and that's a good thing.
According to PotashCorp's second quarter press release, the company continues to push for a deal that would give PotashCorp access to K+S' Canadian potash mine, also called the Legacy project. This is the excerpt from PotashCorp's financial section of the 2Q15 press release:
During the quarter, we proposed to acquire K+S for €41 per share. This business combination would bring together complementary assets to create a well-capitalized, more diversified company across products, geographies, distribution and customers. Despite K+S' initial rejection, we believe that our proposal balances the interests of investors and other stakeholders, including the employees and communities in which the companies operate. As such, we remain focused on engaging with and having constructive discussions with K+S management that would include commitments to secure German locations and employment. Please bear in mind that we have not yet decided to make a formal offer.
Yes, a formal offer hasn't been made, but PotashCorp's relentless efforts to entice K+S' management into further talks speak volumes about the company's hunger to work a deal out. If PotashCorp gives specific job and production guarantees for K+S' German production sites, and raises its offer closer to 50 euro per K+S share, the Canadian potash company could create momentum for itself and increase the odds of a successful takeover by a mile.
PotashCorp needs to do something. The company plans to grow via acquisitions in an industry that has become more competitive since Uralkali blew up its potash cartel in the summer of 2013.
And PotashCorp's second quarter wasn't exactly a blowout quarter either.
Falling nitrogen prices hurt Potash Corp.
PotashCorp's 2Q15 earnings missed analysts' estimates. The potash company had earnings of $417 million, $0.50 per share, compared against $472 million, $0.56 per share, in 2Q14. The Street was shooting for earnings of $0.51 per share.
PotashCorp's potash segment benefited from higher realized prices compared to last year. In 2Q15, the average realized potash price was $273 per tonne vs. $263 per tonne a year ago. Higher offshore shipments through Canpotex also contributed to segment gross margin growth of $22 million.
The nitrogen segment hurt PotashCorp in the last quarter as the segment's gross margin fell a whopping $82 million on lower prices. The average realized nitrogen price declined 15% year-over-year from $393 per tonne to just $334 per tonne. Lower prices were the result weaker of market fundamentals -- that is, higher supply -- compared to last year.
The phosphate business contributed positively to PotashCorp's 2Q15 gross margin of $711 million. However, lower phosphate sales impacted results negatively. The average realized price per phosphate tonne rose to $553 per tonne from $509 per tonne last year.
(click to enlarge)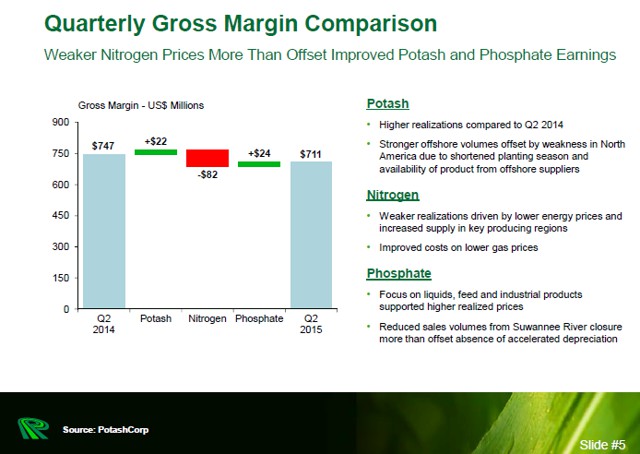 Source: PotashCorp Investor Presentation
High industry supply and price pressures in the fertilizer market remain key challenges for potash firms in the short run.
PotashCorp itself adopted a cautious outlook and revised its full-year 2015 earnings guidance down from $1.75-$2.05 per share to $1.75-$1.95 per share.
(click to enlarge)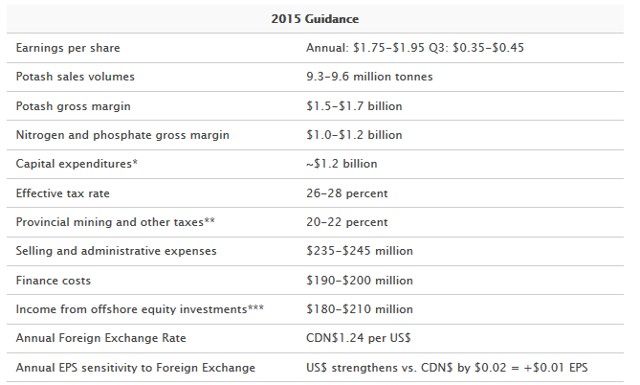 Source: PotashCorp Second Quarter Earnings Release
PotashCorp's second quarter results were defined by contracting gross margins, even though the company benefited from encouraging price trends in two of its three business segments, potash and phosphate. The lowered top end of its guidance range shows that the earnings outlook for PotashCorp is not as bright as previously thought. Nonetheless, PotashCorp has the power to change the narrative; a successful deal with K+S would require a fundamental reassessment of the company's earnings outlook.
Editor's Note: This article discusses one or more securities that do not trade on a major U.S. exchange. Please be aware of the risks associated with these stocks.
More