Pandora released the company's earnings yesterday and stock immediately dropped more than 10%. However, Pandora regains more than 3% during the Friday trading session. Let's try to check why the stock dropped and how we can make money from this drop. 
Q2 FY2016 results: forecast vs actual numbers
Before the earnings I was really optimistic regarding Pandora Media stock, because of a few reasons. First of all, unit economics shows a positive picture - operating margin per each user was going up, average revenue per user was going up as well. Q1 was positive overall - the company's margin per user didn't drop below the zero, the company handled its revenue growth without a significant increase in costs. 
P&L: Revenue growth rate is higher than costs drop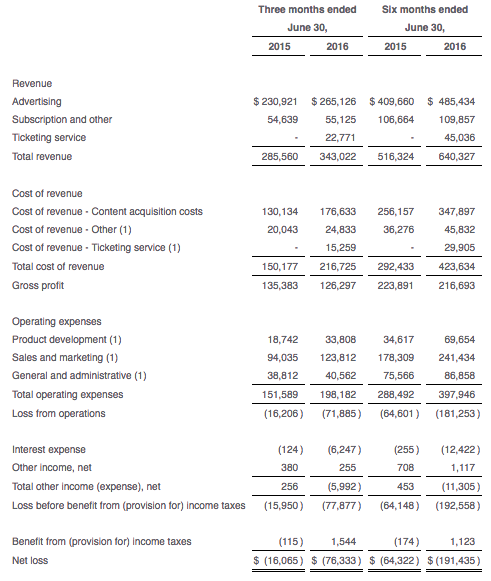 Pandora's advertising revenue increased by 20.34% on q-o-q basis and reached $265M, overall revenue grew 15.38% to $343M. I expected Pandora's revenue being higher that it actually reported, however I don't consider top-line revenue as a key factor for my investment decision. Cost of revenue increased by 4.74% converting into 37% gross margin compared to 30% gross margin in Q1. It's not the highest number, actually it's the lowest gross margin in Q2 since 2014.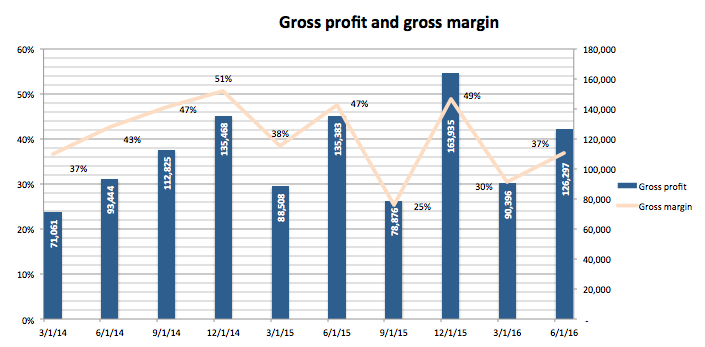 There is a negative factor showed on the following chart - Pandora lost 1.3M subscribers and it's a lot. Here we see how competitive and tough the market is - Apple Music, Spotify and some other players. However sometimes it could be even a positive factor - in case if the company is increasing its margins. We'll come to the margins a little bit later, let's check the average revenue per user first: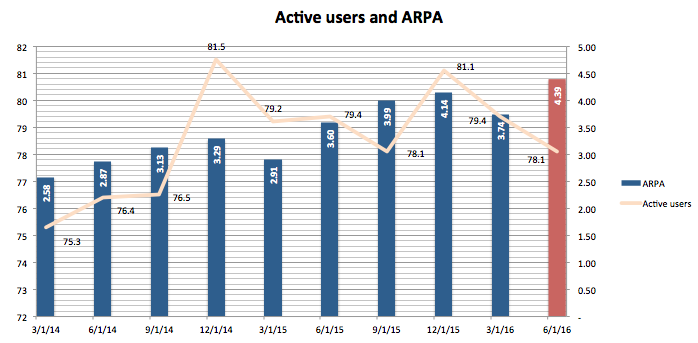 As we can see from this chart, average revenue per user is going up and it's a good sign. Number of active users dropped around 1.64%, but an average revenue increased by 17.3%. Better monetization is sometimes way better than growing customer base. As I've already mentioned, the company's revenue is growing faster than its costs. Operating costs are going down in total, the only line in operating expenses increased is sales and marketing, which went up 5.26%. It shows that the management is trying to optimize the business operations - G&A dropped more than 12%. 
I have a concern regarding Pandora's core product - company's product development costs dropped by more than 5%. And I think for such internet company it's really important - I think that the best way for Pandora to make their business more efficient is to significantly decrease the marketing expenses. However, I understand that doing this will be almost impossible - we don't know the retention rate, but I suppose for such services it's really high. Therefore getting more active users on board is very important. 
Margin per user
Margin per user is the most important metric that I check each time I analyze the tech stocks. And I'm really glad to see that Pandora's margin per user increased by 75% on q-o-q basis.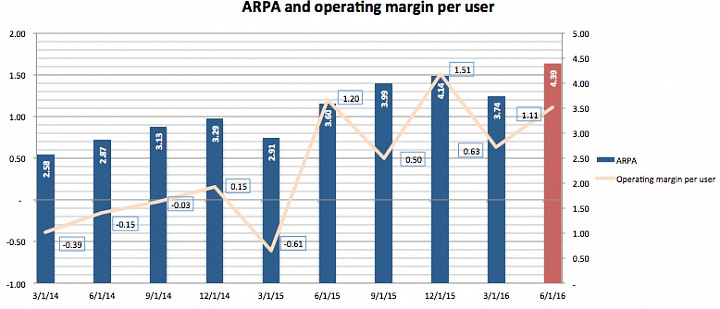 We can see from this chart, that operating margin per user growth in 2015 was even higher, but I'd like to stop your attention on the following positive trend - the company's operating margin per user is above the water line for as long as 5 quarters in a row. If the company keeps managing its costs the same way, its overall margin will be positive really soon. 
Summary
The company is steadily developing but it's still not enough to make a jump into the green zone in terms of total margins, however, the trend is positive. I suppose that acquisition in this case will be a win-win for both Pandora and a buyer. Now I see Pandora now as a teenager who has a huge potential due to his assiduity and a great desire to become a great sportsmen, businessman or scientist. It's not a super star in his class, he has a super rich classmate who overstayed at high school, but his pockets are full of money. He has a super talented young friend who is enormously popular and uses it to get more and more friends. Our teenager isn't jealous of both rich and smart friends, he is working to become better every day and he believes that at some point of time he will be staying at the same line with his friends. 
I'll keep an eye on Pandora Media, but it's still to risky to invest in.