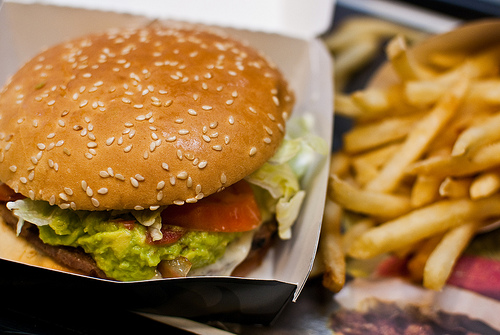 Last week, McDonald's (NYSE: MCD) CEO Steve Easterbrook rejected Burger King's (NYSE: QSR) suggestion to collaborate on a "McWhopper" of sorts to settle the feud between the two fast food restaurants in honor of Peace Day on September 21.
The king of burgers took out two full-page advertisements in both the New York Times and Chicago Tribune addressed to McDonald's suggesting the "truce" by creating a new burger for the specific day. Easterbrook responded to the advertisements in a snarky Facebook post, suggesting simply making a phone call then next time they have an idea.
However, a new collaborator has recently followed in the footsteps of Burger King, taking out an advertisement in USA Today; Denny's.
"Hey @BurgerKing, we love the idea of a peace burger. We're just not sure what to call this thing. Any ideas?" the Denny's advertisement reads, according to CNBC.
The chain diner suggests the two companies band together to make a collaborative version of Denny's (NASDAQ: DENN)  Bacon Slamburger, according to CNBC. Currently, the burger is made up of hash browns, egg, bacon and pepper jack cheese with a burger patty.
"We can name it the Whamper, the Slamopper, The WhopaSlam … Well, we can figure that out later," Denny's said in the advertisement, according to CNBC.
The burger chain has yet to respond to Denny's proposition.
The idea of businesses teaming together for a good cause is a great idea, particularly for something like Peace Day, where companies could potentially make a play on their conceived rivalries. However, no it seems like some companies are grasping for straws trying to hop on the trend.
For more business and financial news, click here.
*This is editorial content and expresses the opinion of the author.