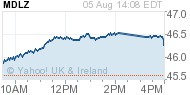 (Changes source, adds comment from Mondelez, background)
Aug 5 (Reuters) - Activist investor Bill Ackman's Pershing Square Holdings Ltd disclosed a 7.5 percent stake in Cadbury chocolate and Oreo cookies maker Mondelez International (Xetra: A1J4U0 - news) Inc.
Pershing Square said its beneficial ownership of 120.3 million shares includes forward purchase contracts and call options.
Ackman's stake is valued at about $5.5 billion based on Mondelez's closing price on the Nasdaq on Wednesday.
"We welcome Pershing Square as investors in our company," a Mondelez spokeswoman said. "We'll continue to focus on executing our strategy and on delivering value for all our shareholders."
The Wall Street Journal, which...
More